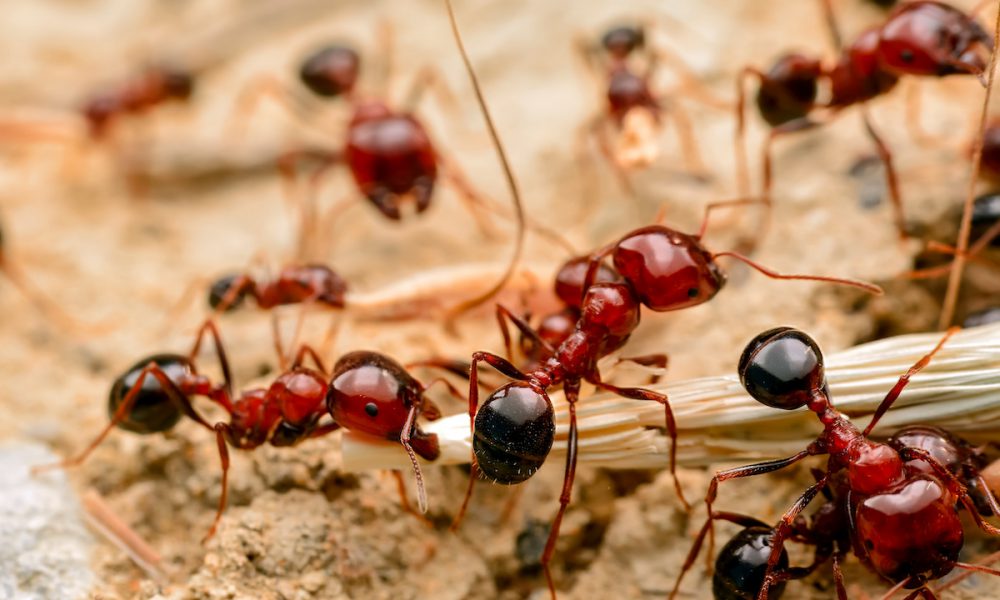 Ants are definitely a nuisance. But, fire ants can be a real pain – literally! If you have been stung by a fire ant, you'll remember it well! Fire ants can turn a peaceful afternoon outside into an itchy, burning stream of misery. A fire ant attack typically causes instant, intense pain. It can turn into itching and skin irritation that lasts anywhere from a few hours to a few days. For some people, fire ant stings are an inconvenience. For some unlucky others, a sting can produce intense pain and itching. For people that are allergic to the venom of fire ants, stings can be life-threatening. A single sting can produce symptoms of anaphylaxis in just a few minutes.
Ants are many things if they get into your home or when you're having an outdoor social event:
Annoying
Frustrating
Painful
Destructive
Dangerous
Most common ant species
In this continuing series, we will describe each of these ants:
Fire Ants
Ghost Ants
Odorous House Ants
Pavement Ants
We are covering Fire Ants in this article.
Fire Ants
They are located in the Southeast US and Southern Central US and Southern California. They congregate in the yard, kitchens, pantries, pet food areas, and family rooms.
Fire ants have a painful bite and a sting that can cause a severe allergic reaction in some people; they can also swarm en masse, inflicting dozens or even hundreds of stings at one time. For children, the elderly, and even small pets that are allergic, these stings can be severe, even fatal.
There are two imported species of fire ants that cause problems in the United States:
Solenopsis invicta
Solenopsis invicta is a native of South American and has colonized at least 13 states in the U.S. These are mostly in the southeast. They are red to brown in color and are less than half an inch long. This species is commonly known as the red imported fire ant.
Their mounds are around 18 inches wide and are often found in grass or lawns, garden beds, along driveways, and other areas with ready access to food. They eat both animals and a wide array of fruits and vegetables.
Using their venom to stun their prey, large groups of fire ants overcome much larger animals quickly, such as box turtles.
Solenopsis richteri
The Solenopsis richteri fire ant is also a native of South America and is commonly known as the black imported fire ant. Black fire ants have only traveled to a few states in the Gulf Coast and southeast, including Texas, Mississippi, and Alabama.
Black fire ants also build mounds which is much larger than red fire ant mounds, often measuring several feet tall. These ants are almost identical to their red cousins in size and shape but are black or dark brown rather than reddish brown.
A sting can occur when someone disrupts their mounts. Both species bite or sting gardeners, playing children, and pets. Ants can continue attacking until their victims leave the mound. Most people are bitten on their legs and feet after stepping on a mound. Fire ants can sting multiple times, which is unlike many other species of stinging and biting insects.
Ant Prevention Tips
It is important to be preventive to keep ants away from your property. Here is some information to help.
The reason ants enter a home is because they are looking for food or moisture. During cold weather months, they may even be looking for warmth. There are several steps you can take to help prevent ants from your home:
Seal gaps around pipes, cracks, and crevices.
Fix leaks and moisture problems immediately.
Keep areas clean of food and beverage spills.
Seal and store cereals, sugars, dried fruits, etc.
Make sure you clean and store put pet food after pets are done eating.
Search out any moisture-damaged wood and replace it.
Keep gutters free-flowing.
Please let our team of professionals help you. Don't spend your valuable time dealing with things that we can handle for you. If you're in any of the surrounding areas, give Proactive Pest Control a call at 770-800-PEST or 770-800-7378.
Contact Us
Choose Proactive Pest Control for professional, comprehensive, guaranteed pest, and lawn management. The pros at Proactive will work diligently to gain your trust, confidence, and your total satisfaction. CALL US TODAY at 770-800-PEST to schedule a free, no obligation inspection and evaluation for your home or business. Or, contact us for a FREE consultation. Let us show you why Proactive Pest Control is northeast Georgia's first choice for pest, termite, and lawn services.