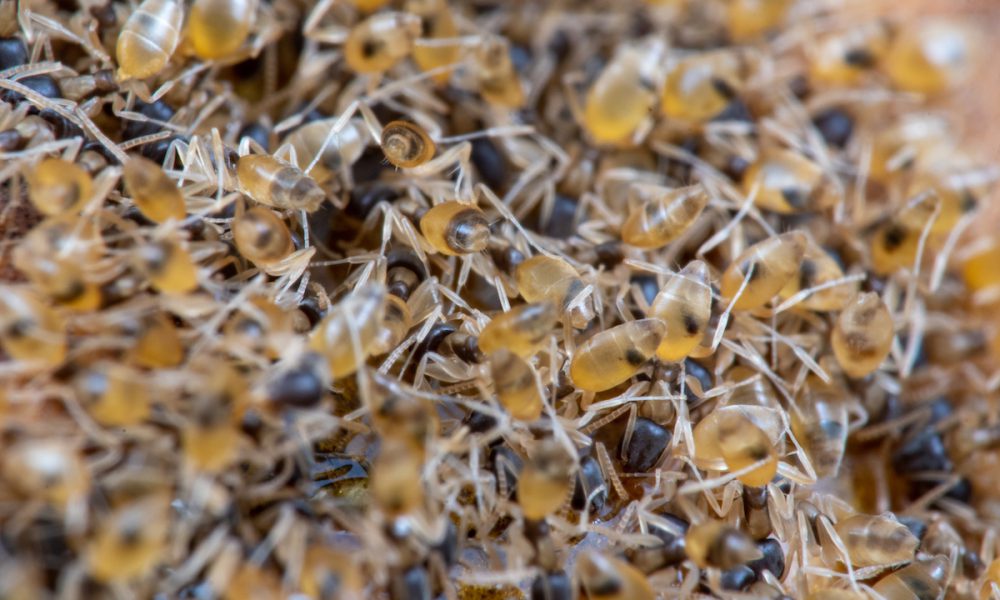 Out of 12,000 species of ants, there is one called Ghost Ant. Yes, you read the word ghost correctly. They were given this name because of their translucent legs abdomen. What is really cool about these ants is you can see the color of the food they are eating because of their ghostly transparency.
In this continuing series on ants, we will discuss ants and information to help you identify them and keep them from hurting you and your home.
Ants can be many things when they get into your home or when you're having an outdoor social event:
Frustrating
Painful
Destructive
Annoying
Dangerous
Most common ant species
In this continuing series, we will describe each of these ants:
Ghost Ants
Odorous House Ants
Pavement Ants
We are covering Ghost Ants in this article.
Ghost Ants
Ghost ants do not have a stinger so they cannot sting. But ghost ants can be a serious nuisance when they set up nests inside homes. When crushed, ghost ants give off a coconut-like odor.
Ghost ants have been in the south and central Florida for several years. They change locations by transporting in boxes, crates, potted plants, and even in household goods that are being shipped.
Ghost ants are partial to sweet foods, particularly aphids and honeydew. The workers go out and gather food, including insects, to bring back and feed the colony. Indoors, ghost ants will eat sweet foods, but they prefer greasy food if it is available.
Appearance
Ghost ants are difficult to see and are extremely small and pale in color. Their characteristics are:
Size – tiny and are 1/16-inch long
Antennae is divided into 12 segments that gradually thicken closer to the tip
Both the head and thorax are very dark in color.
Their Abdomen, legs, and antennae are a pale milky white
No Hair
No stinger
Habitat
They are capable of living outdoors and indoors. Outdoors they live in the ground near stones, logs or woodpiles, and even moist grass and plant stems.
Ghost ants get inside homes and businesses on trails that they make along the ground and on utility lines or tree limbs and shrubs that touch the house. These ants also make nests inside wall voids or behind cabinets and baseboards. They will also build nests in flowerpots or other moist areas. Inside a home, they are in kitchens and bathrooms, searching for moisture and food.
Baiting is the best way to get rid of these ants in your home or on your property. You'll need to bring in a professional pest control expert.
Ant Prevention Tips
It is important to be preventive to keep ants away from your property. Here is some information to help.
The reason ants enter a home is because they are looking for food or moisture. During cold weather months, they may even be looking for warmth. There are several steps you can take to help prevent ants from your home:
Seal gaps around pipes, cracks, and crevices.
Fix leaks and moisture problems immediately.
Keep areas clean of food and beverage spills.
Seal and store cereals, sugars, dried fruits, etc.
Make sure you clean and store put pet food after pets are done eating.
Search out any moisture-damaged wood and replace it.
Keep gutters free-flowing.
Please let our team of professionals help you. Don't spend your valuable time dealing with things that we can handle for you. If you're in any of the surrounding areas, give Proactive Pest Control a call at 770-800-PEST or 770-800-7378.
Contact Us
Choose Proactive Pest Control for professional, comprehensive, guaranteed pest, and lawn management. The pros at Proactive will work diligently to gain your trust, confidence, and your total satisfaction. CALL US TODAY at 770-800-PEST to schedule a free, no obligation inspection and evaluation for your home or business. Or, contact us for a FREE consultation. Let us show you why Proactive Pest Control is northeast Georgia's first choice for pest, termite, and lawn services.