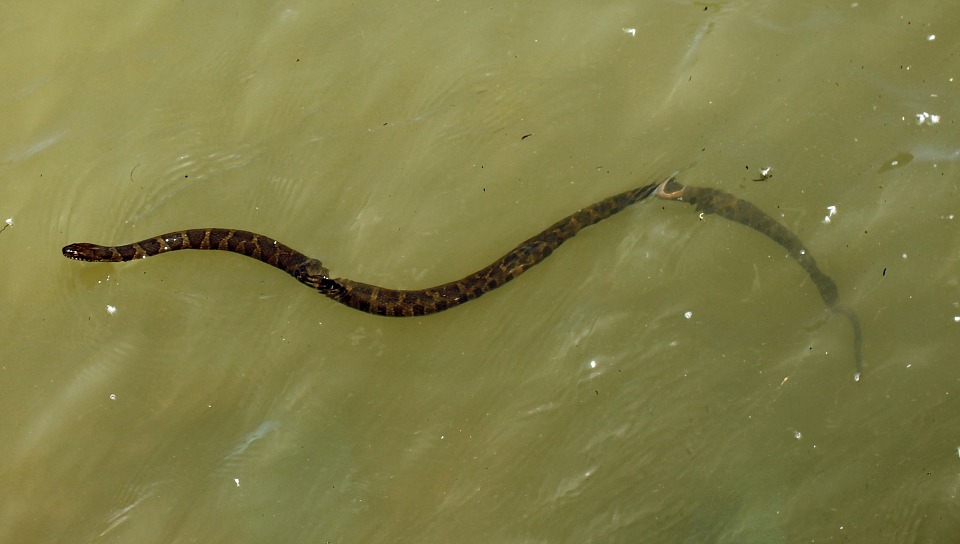 There have been countless occasions in which I have seen people misidentify a snake as a water moccasin (cotton mouth), solely based on the fact that the snake is swimming. The truth is that ALL snakes can swim.
There are numerous ways in which one can distinguish between a water moccasin (venomous), and other non-venomous snakes while they are swimming. I won't get into these differences, as I have gone into detail in a separate blog article, but it's important to know that there are other ways to tell.
Although all snakes can swim, you may be able to tell a moccasin from other snake species by the way that it swims. Water Moccasins are very buoyant snakes that usually float, while holding their heads high out of the water. Water snakes, or any other snakes that are swimming, typically swim at or under the surface of the water, with their heads level with their bodies.
As with just about anything, there are exceptions to the rule. If you are unsure as to which kind of snake you are dealing with, I encourage you to exercise great caution, and to give the snake its space.
To learn more about our Snake Control services contact us today for a FREE CONSULTATION.