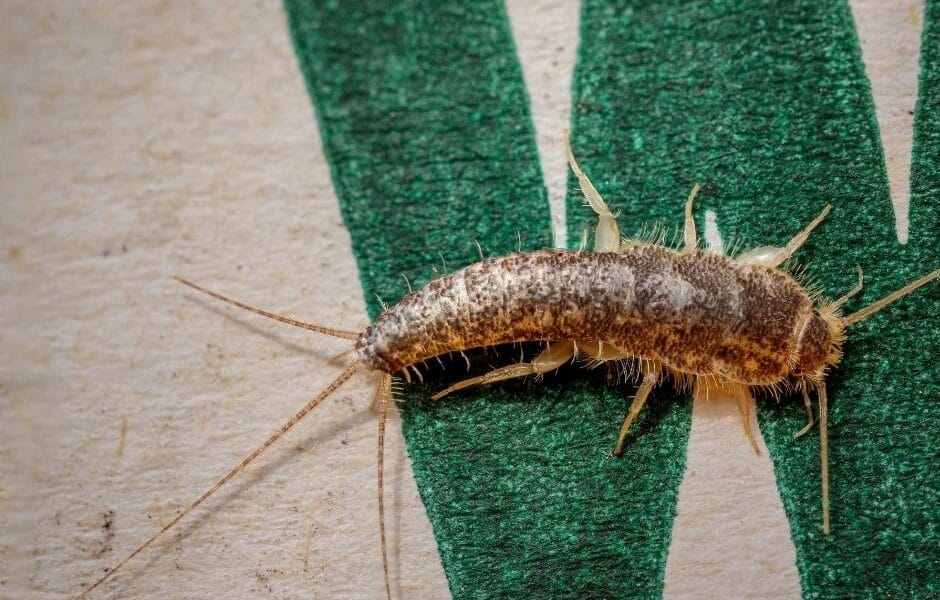 Silverfish are a common household pest that thrives in moist conditions. After all, they're called silver-fish for a reason.
Luckily, Silverfish do not cause harm to humans, but they can destroy belongings like important paperwork and luxurious fabrics. Nevertheless, there are many ways to prevent Silverfish from entering your home and rapidly reproducing.
In this blog, Proactive Pest Control shares everything you need to know about the Silverfish. By learning all about this pesky critter, you will be well equipped to avoid the problems they cause.
Read on to get familiar with Silverfish and know exactly how to prevent them from thriving in your home.
Silverfish Identification
Appearance
The Silverfish gets its name from its silver, scaly body and speedy fish-like movements. But don't be fooled. These creatures are, in fact, insects. You can use the following to identify the Silverfish based on appearance:
Size: ½ to 1 inch
Shape of Body: Narrow, carrot-like
Legs: 6
Other Key Identifiers:
Three tail-like appendages at the end of its body
Two long antennae
Shiny silver coloring
Life Cycle 
After mating, the female Silverfish lays two to twenty eggs in a hidden location, like a crack or under carpeting and rugs. In about 30 days, the eggs hatch, and Silverfish nymphs emerge. Nymphs are similar in appearance to adults, except for being white in color and smaller in size.
Young Silverfish will reach adulthood anywhere from three months to two years. Unlike many insects, Silverfish have a relatively long lifespan. In the best conditions, they can live up to eight years. However, it's more likely they will live about two to five years.
Throughout their lives, Silverfish molt regularly. This leaves behind shiny, almost translucent scales that you may find on fabrics and other surfaces.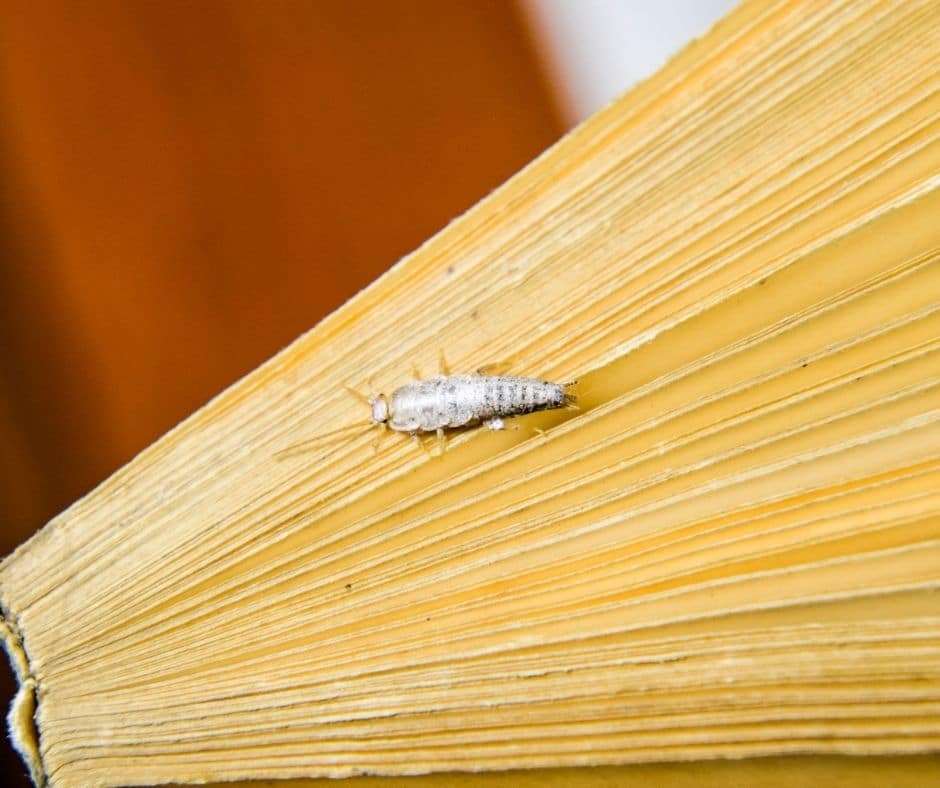 Silverfish in Your Home
Silverfish are resilient critters that can survive in most climates and conditions. However, they prefer dark and damp areas, like kitchens, bathrooms, and basements. You may also spot a Silverfish inside your pantry and other storage areas with food, clothes, or paper.
What Attracts Silverfish?
When entering your home, a Silverfish looks for shelter, moisture, and something to eat. The following are some of the common conditions and materials that attract Silverfish to your home:
Damp areas
Leaky plumbing fixtures
Condensation collecting on windows
Starches, proteins, and sugars in the pantry or on countertops
Paper
Glue
Fabrics
Are Silverfish Dangerous?
Silverfish do not bite, sting, or carry harmful ill-causing bacteria. In most cases, they are not considered a danger to humans. Nevertheless, some individuals are allergic to Silverfish and will experience symptoms when they are present in large numbers. When a Silverfish sheds its scales, it can get mixed in with dust and irritate allergies.
Otherwise, Silverfish do not cause harm to humans but may damage belongings. Fabrics, pantry food, books, paperwork, and more are susceptible to Silverfish damage.
How Do You Know If You Have Silverfish in Your Home?
Even though Silverfish are not considered dangerous to humans, they certainly are a nuisance inside your home. Luckily, there are plenty of signs that lead to the discovery of a Silverfish infestation. Use the following tips to determine if you have Silverfish lurking in the dark and damp corners of your home.
Look in their Favorite Hiding Spots.
To find Silverfish, search in the dampest areas of your home. Some of the best locations to check are the kitchen and bathroom sink, bathtub and shower, and other plumbing fixtures.
These insects also can be found in hidden and humid spots like the attic or basement.
If you happen to catch a view of a Silverfish in any of these areas, they'll likely see you, too, and dash away as quickly as possible. These tricky little buggers will take shelter in the nearest crack or crevasse. So, do your best to be sneaky and silent when searching for Silverfish.
Keep an Eye out for Other Signs of Silverfish Activity.
Inspect paper products like newspapers, documents, books, and magazines. You want to look for large holes, often circled with several smaller holes.
Additionally, check your fabrics and pantry foods for similar damage.
Preventing and Eliminating Them
Did you know Silverfish are one of the most ancient insects on the planet?
They sure are.
And with years of experience and evolution, these pests have become quite good at what they do. That's why it can be a challenge to get rid of sneaky Silverfish. Nevertheless, there are many ways you can prevent Silverfish from entering your home and quickly growing in numbers.
Preventing Silverfish
To keep Silverfish from entering your home, ensure the exterior of your home is free of cracks and damages that act as an entry point for pests. Beyond repairing these entryways, there are a few more things you can do to keep any Silverfish from thriving in your home:
Eliminate Excess Moisture: Silverfish are highly attracted to damp conditions. So, to best prevent them from spreading indoors, get rid of as much moisture as possible.
To start, ensure that your home's humidity levels aren't too high. The ideal level for the average home falls between 30% and 50%. Exceeding the max will create a humid environment for Silverfish to flourish.
Next, make any repairs to plumbing fixtures and pipes that are leaking or causing other moisture issues. And finally, use exhaust fans when showering or bathing, and be sure to air out the room to avoid moisture build-up. Likewise, avoid creating excessive humidity while cooking in the kitchen by using fans and airing out the space.
Contain Food: Ensure your pantry foods and other Silverfish-attracting materials are sealed in containers. If items like large paper rolls or stacks of fabrics are too large to close in a durable container, consider placing them high off the ground. Additionally, you can surround these items with double-sided tape to catch any Silverfish that try to access them.
Dispose of Unnecessary Papers and Fabrics: If you have an abundance of old paper products or fabric materials that are never used, it may be time to finally toss them out. For instance, you can help prevent Silverfish from succeeding in your home by disposing of stacks of old magazines and newspapers.
Getting Rid of Silverfish
When it comes to getting rid of these pests, calling the professionals is typically the best course of action. Silverfish are resilient to many pest control methods and quite tricky to eliminate entirely. However, with the help of the experienced experts at Proactive Pest Control, you can ensure that the Silverfish will be removed and prevention measures will be in place.
Count on the Pros at Proactive Pest
Our proactive treatment works well because we use the best products to eliminate pests. We offer full-service treatment options for your home, ranging from quarterly to yearly and even one-time options.
Professionals will investigate and find the sources causing your Silverfish problem. We can save you time and energy by providing quicker and more effective results than attempting to get rid of these tricky pests on your own.
Set up a free consultation with us today! Whether you are struggling to get rid of current bug problems or you're seeking to be proactive, we have a variety of treatment plans to choose from so you can find what best fits your situation.
If you suspect a Silverfish infestation, or any other pest problems, give Proactive Pest a call today.