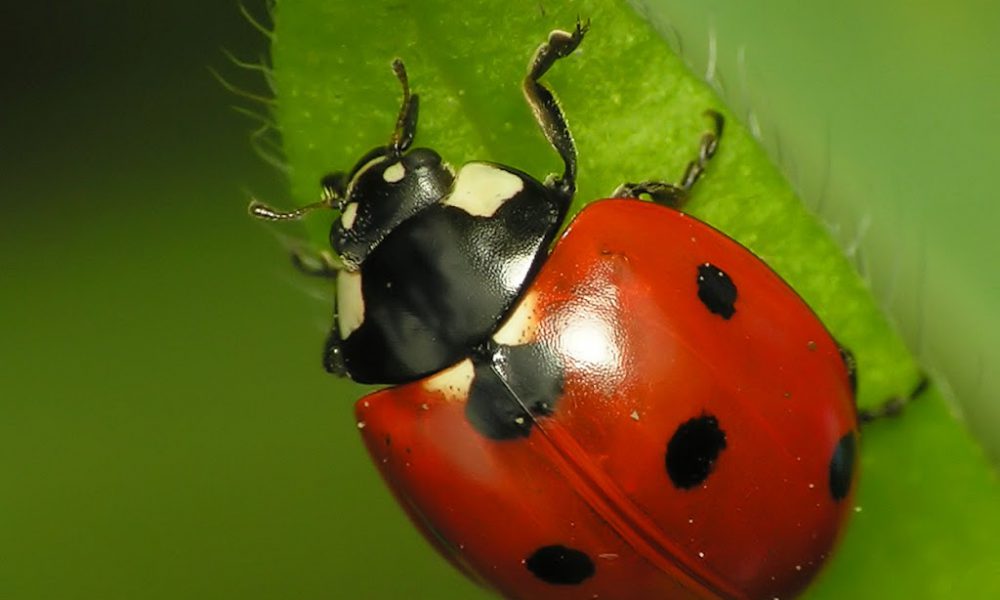 Ladybugs in the garden, at first, sounds like you have a pest issue. However, these fascinating beetles will actually benefit your garden by consuming the real pests, such as aphids.
Using ladybugs in the garden is a safe and natural way to eliminate other pesky insects that may destroy your plants. Ladybugs have an enormous appetite and work wonders in a home garden.
Though, using ladybugs as pest control always isn't as simple as it sounds. You may be wondering, "how do I get ladybugs to come to my garden?" Or "won't the ladybugs eat the plants in my garden, too?"
These two questions and many more will be answered in this blog. Dive into the world of these adorable beetles with Proactive Pest Control. And discover the benefits of using ladybugs in the garden.
Facts About Ladybugs
Despite their common name, Ladybugs are beetles, not bugs. Beetles have jaws for chewing and hard shells over their wings for protection.
The following are additional fascinating facts about the Ladybug:
A single Ladybug will consume around 50 aphids a day.
Adult Ladybugs hibernate for winter.
The "lady" in Ladybug comes from the Virgin Mary.
Their color and spots are a warning signal for the Ladybug's predators.
Ladybugs have two hidden wings to fly.
Not all ladybugs are females.
Different Kinds of Ladybugs
You're probably familiar with the bright red, black-spotted Ladybug. But did you know that ladybugs can come in all kinds of colors and patterns?
There are over 5,000 ladybug species on our planet, ranging from blue-black to pink. And although many are covered in spot-like patterns, several types are solid. Some subspecies may have two spots, and others have 22.
When it comes to ladybugs in the garden, not all are beneficial. In Particular, the invasive Asian Lady Beetle often causes more issues than benefits in a garden space. These beetles are known for getting into the home and affecting the native populations.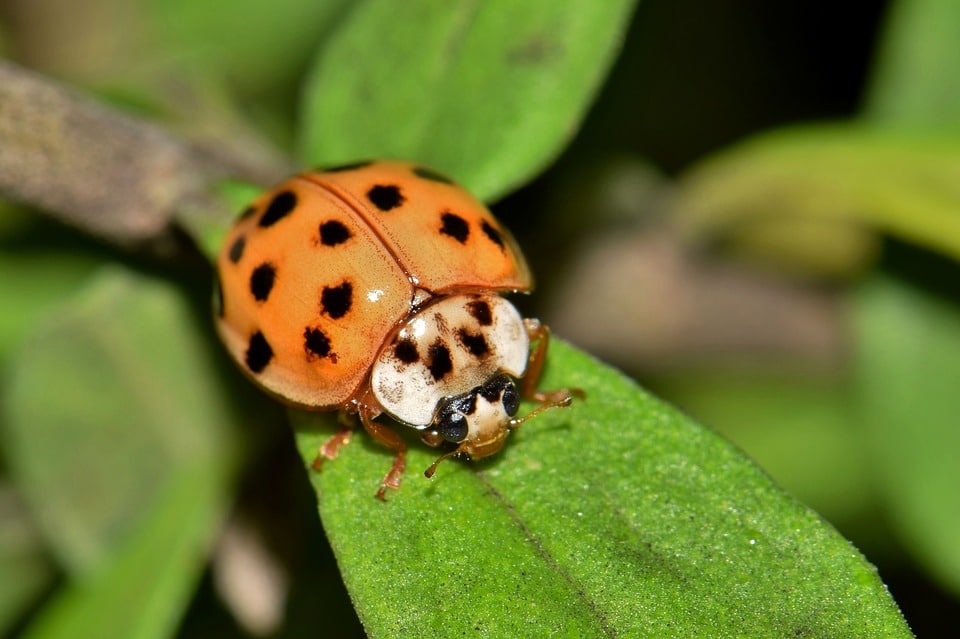 Ladybug Life Cycle
The Ladybug's life begins with a female laying a cluster of tiny yellow eggs under a leaf or on a stem. After about a week, the eggs hatch, and the ladybug larvae emerge. Immediately, they begin feeding on small aphids and other insects.
Over the next couple of weeks, the larvae continue feeding, then find a safe place to pupate. In this stage, the larvae will transform into an adult Ladybug.
The entire lifespan of a ladybug will last about one year. Additionally, they are hibernating beetles. So, during winter, they find a warm location to rest until the harsh weather blows over, occasionally inside our homes.
Is it Good or Bad to Have Ladybugs in the Garden?
Having Ladybugs in the garden is an effective and organic pest control method. And more specifically, the control and elimination of plant-destroying aphids. Aphids are small insects that feed on plants and can be a big problem in a home garden. They are typically bright green but can be red, brown, yellow, or black.
A single ladybug will eat about 5,000 aphids in its lifetime. They have endless appetites, making them highly effective in controlling nuisance pests. What's more, ladybugs in the garden will hardly ever eat your precious plants. And if they do, it's such a small amount that you won't need to be concerned.
Ladybugs are Good Luck
Think back to childhood. Do you remember when a little red ladybug would land on you, and it was considered good luck? Or perhaps you would wish upon the Ladybug, hoping it would make your dreams come true.
Across many cultures throughout history, the Ladybug has been recognized as a symbol of luck. It's thought that this all began with some humble farmers and a very unlucky growing season. The farmers prayed to the Virgin Mary, and soon, bright red ladybugs appeared. Soon, their crops were growing better than ever before. This is where ladybugs received their common name, too. Over time, "our lady's bugs" has transformed into the familiar "ladybugs."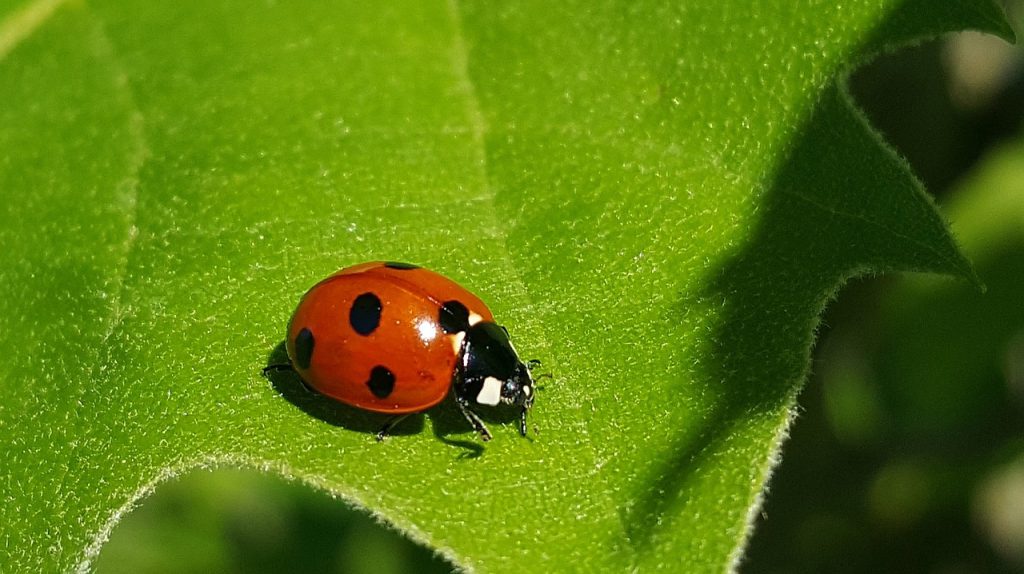 How to Attract Ladybugs in the Garden
One way to get ladybugs in the garden is to attract them to it. And in this case, you'll want to ensure your garden is ladybug-ready. Consider the following four tips on how to attract ladybugs to your home garden.
1 | Plants that Attract Ladybugs
Much like humans, your ladybugs in the garden need food, water, and shelter to survive. Therefore, one of the best ways to attract ladybugs is to plant their favorite herbs and flowers. The following plants are perfect for attracting these beneficial beetles:
Angelica
Dill
Chives
Cilantro
Marigold
Yarrow
Sweet Alyssum
Caraway
2 | Plants that Attract Aphids
Additionally, you'll want to attract some of the Ladybug's preferred insects to eat, such as aphids. If aphids are already an issue, you may not need to take this step. However, if you want to keep the ladybugs in the garden for some time, create a habitat that will sustain them.
Often, the ladybugs will rapidly consume all the aphids, or other pests in the garden then either die off or move to other areas due to a lack of nutrition.
So, to keep the ladybug population in place, consider planting some aphid-attracting plants:
Cabbage
Marigold
Nasturtium
Radish
3 | Eliminate the Use of Insecticides
If you decide to use insecticides along with the use of ladybugs, your efforts will not likely reap the benefits. Insecticides may kill off the aphids and other pests, but they will harm your ladybugs, too. So, be sure to eliminate insecticides when using ladybugs for your method of pest control.
4 | Shelter and Water
Set out a shallow dish and refill it when needed to provide water for your ladybugs in the garden. And for shelter, be sure you have plenty of shade or consider setting out DIY ladybug "homes." You can do this by collecting empty toilet paper rolls and placing them throughout your garden with drops of honey inside. The ladybugs will see this as a safe place to rest or perhaps reproduce.
Releasing Ladybugs in the Garden
The second way to get ladybugs in the garden is to purchase them and release them yourself. And although this may sound like a fool-proof way to get ladybugs in your yard, like attracting them, there are important considerations to make this successful.
First, ask yourself the following questions:
Is there plenty of food for the Ladybugs?
Do you have a water source within the garden?
Will your garden or yard provide enough shelter for your Ladybugs?
Next, consider the stress they've been under while traveling.
Yes, insects get stressed, too.
Typically, the ladybugs you received would have been collected during hibernation and stored in cold temperatures until they were shipped. So, when the package arrives, place your ladybugs in the refrigerator to de-stress and acclimate once more.
Then, release the ladybugs in the evening. Naturally, these beetles prefer cool and dark areas. So, when released during the day, they are more likely to fly off.
Here are some additional tips on how to successfully release ladybugs in the garden:
Place the container of beetles near plants infested with aphids or other pests.
Spray your plants with water to provide immediate access to hydration for your ladybugs.
Place an index card or empty toilet paper roll with a few drops of honey near the ladybugs for an instant source of nutrition.
Are Ladybugs Getting into Your Home?
When working with critters of any kind, there's always a chance that things won't turn out as you intended. After all, Ladybugs are their own creature, making their own decisions. And no matter how hard you try, sometimes you can't entirely control them.
In the case of Ladybugs used for garden pest control, many people have reported ladybugs invading their homes in the winter when they seek safe places to hibernate. And this can be a nuisance for you and your household members.
If this happens to you during your ladybug endeavor, there's no need to worry when you have Proactive Pest Control on your side.
Every winter, we see a spike of ladybugs and other insects inside homes, looking for warmth and shelter. And with our experience and knowledge, you can count on Proactive Pest to eliminate the source and make your home bug-free.
So, call Proactive Pest Control to take care of the ladybugs inside your home.
Or, for your convenience, you can schedule a free consultation here.