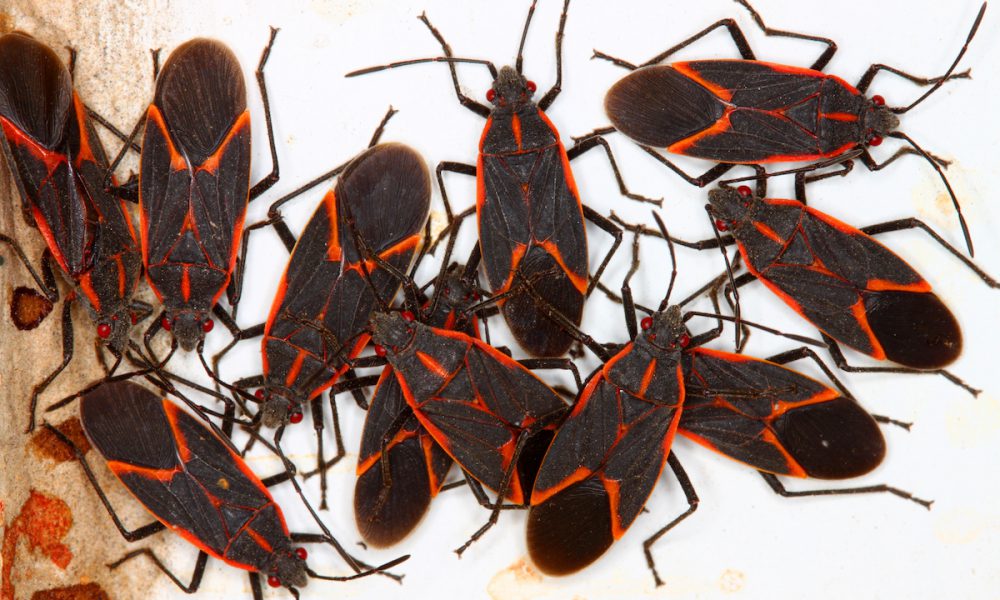 Temperatures are warming for spring, which means Boxelder bugs are on the move. Perhaps you've already spotted these little red pests in their large gatherings along your home's exterior walls. Or maybe you've seen a Boxelder bug inside your home, emerging from its winter slumber.
Either way, you certainly don't want Boxelder bugs taking over your space with their massive swarms. They aren't dangerous or threatening in the traditional sense, though they leave behind tiny spots that can stain valuable furniture, fabrics, or other surfaces.
In this blog, you'll find out why these pests are swarming your house. Plus, we will share how to handle an infestation the right way.
Read on to discover what Proactive Pest Control has to say about pesky Boxelder bugs.
What are Boxelder Bugs?
Boxelder bugs (Boisea trivittatus) are classified as "true bugs." In other words, they are insects with sucking or piercing mouthparts and are related to other true bugs like stink bugs and cicadas.
Their common name comes from their relationship with the native Boxelder tree. Found all throughout the United States, the tree provides Boxelder bugs with leaves, seeds, and flowers for feeding.
Appearance
Adult Boxelder bugs have a flattened, black, oval-like body. Their wings lay flat on their bodies and overlap to form an "x" pattern. Also, their wings and thorax are lined in orange or reddish color.
The young bugs are typically bright red. Otherwise, they are similar in appearance, except for the lack of wings.
Here are some additional identifiers for the Boxelder bug:
Legs: 6
Size: ½ inch
Antennae: Yes
Habitat
Although the Boxelder tree is their primary host, these tiny insects are occasionally found on maple and ash trees, as well. More specifically, the Boxelder bug is attracted to bright and sunny areas, including the sides of buildings or other structures. 
Behaviors
Boxelder bugs are commonly seen in large gatherings. After feeding during the spring and summer, they will assemble on the sides of rocks, buildings, and other structures, including your home. By early fall, a large number of Boxelder bugs settle in a single location, then move together to a suitable shelter for winter. Unfortunately, our homes can be an ideal hiding place for a Boxelder bug swarm.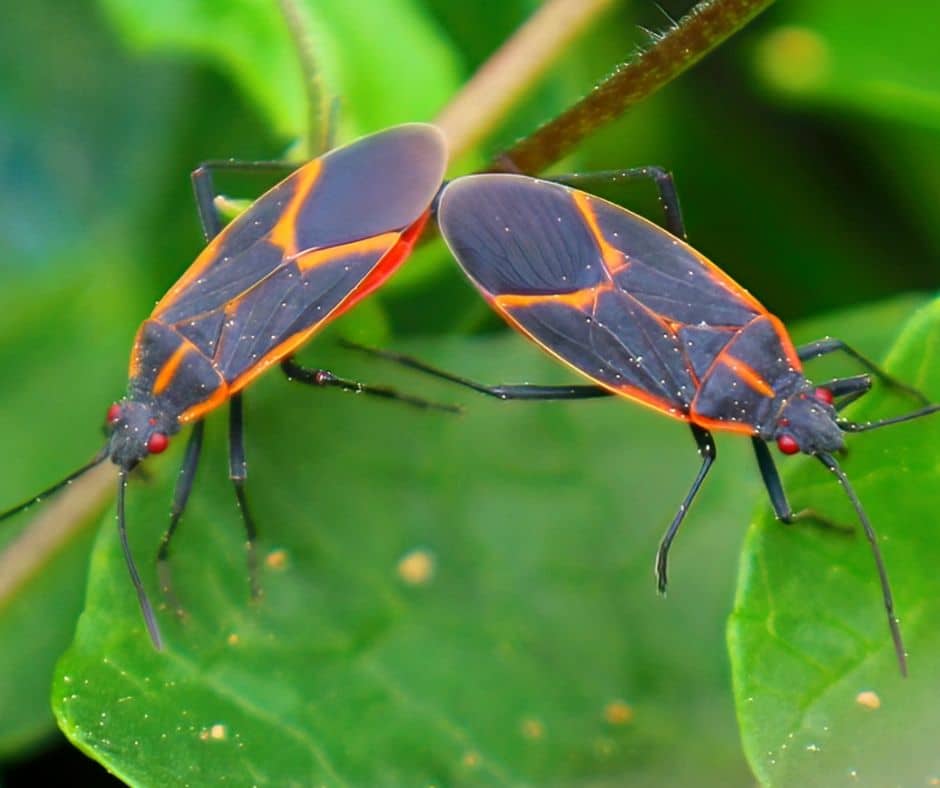 Are Boxelder Bugs Dangerous?
These critters are not considered a threat in or around your home. Boxelder bugs won't typically bite, except in rare cases of defense. Additionally, these bugs cannot sting. But most importantly, they will not cause any damage to your home or other structure they swarm.
Nevertheless, they are certainly a nuisance. In fact, one of their most pesky traits is leaving behind tiny yellow, brown, or gray spots that stain light-colored surfaces. Curtains, white walls, sheets, and windowsills are common areas where you might find these stains.
Boxelder Bugs Inside and Around Your Home
If you spot large gatherings of Boxelder bugs around your home, they are more than likely there for a specific reason. In order to catch the best sunlight, Boxelder bugs are especially attracted to structures facing south or west. Buildings that stand tall among other structures are another favorite of this swarming bug species.
Also, keep in mind Boxelder bug populations fluctuate due to environmental factors. They aren't always such a prevalent issue. However, when a hot and dry summer is followed by a warm spring, you can expect to see a spike in Boxelder Bugs numbers throughout the country.
Additionally, Boxelder bug sightings change with the seasons. Read on to know where to find these pesky critters, no matter what the season.
Spring to Summer
Boxelder bugs emerge from their winter hiding spots when the weather warms for spring. They begin feeding on local vegetation, and soon they are ready to mate.
These bugs are highly active during spring and summer. And in years of high populations, you may find these little bugs overflowing into your garden or other backyard habitats.
Female Boxelder bugs lay their eggs on the trunks, branches, and leaves of the Boxelder tree and similar species.
Summer to Fall
As cooler weather approaches, Boxelder bugs will leave their host trees for shelter. Unfortunately, our warm and cozy homes make for a perfect place to rest for the winter months ahead.
But before they hide away, you'll spot large groups soaking up the sun on the side of a building or similar surface. And come fall, they begin to make their way into your home.
Winter to Spring
During the cold winter months, Boxelder Bugs will enter homes to hibernate. These bugs are pretty small and can easily get into your home by squeezing into cracks and holes in the structure.
Typically, they are inactive in the winter but can become mobile if the weather warms.
However, Boxelder bugs are back on the move when spring comes around. And if you didn't see them beforehand, you won't realize you've had an infestation until the weather warms.
These bugs become visible once they leave their hiding spots, attempting to exit the home. Boxelder bugs gather near sunny and warm areas indoors, like your windows and doors.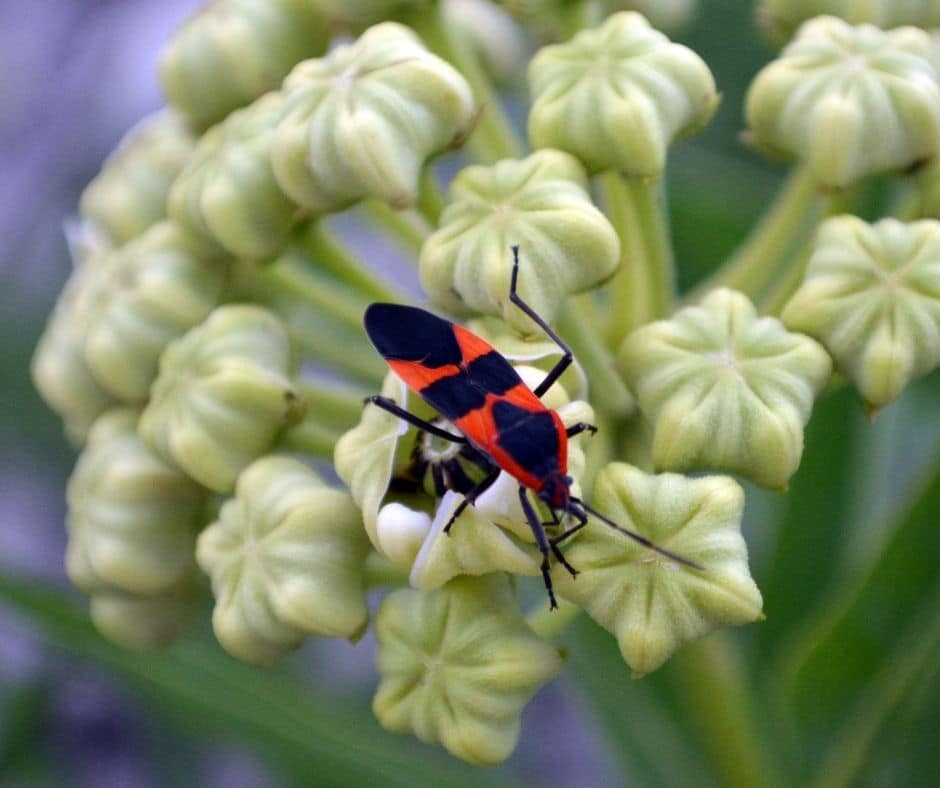 Preventing Boxelder Bugs from Settling Inside or Around Your Home
Even though Boxelder bugs are not dangerous, you probably don't want them roaming freely inside your home. By far, the best way to keep these pests out of your home is to implement the correct prevention methods.
Outdoor Prevention
First, start with the bugs outside who might want to enter your home in the future. And if you happen to see any Boxelder bugs around your building, you can spray them with a water hose. Doing this may kill off some bugs and discourage survivors from returning.
And to further prevent these pests from entering your house, take the following actions:
Repair damaged windows and door screens
Fix any damaged vents leading to the inside of your home.
Seal cracks and holes in the structure with the proper sealant.
Get rid of any gaps in the structure of your home by installing door sweeps, rubber seals, or other similar objects.
Indoor Prevention
After you've ensured that your home's exterior and surrounding area is bug-free, move your efforts indoors. Do keep in mind that using poisons on Boxelder bugs is not recommended. This is due to their tendencies to hide in unseen locations. Additionally, they will not reproduce inside your home and will more than likely die in just a few days.
That being said, you may find the bugs in the following hidden spots inside your home:
Attic or basement
Inside of walls
In the bathtub or sink
Near houseplants, looking for water
Against the windows and doors
Getting Rid of Boxelder Bugs
Now, when it comes to eliminating Boxelder bugs, the process can be a little tricky. These bugs are known for hiding away in hard-to-reach places. Plus, getting rid of these pests usually requires more than just spraying chemicals because poisons won't keep them from returning the following year.
For these reasons, contacting your local pest control company is best for dealing with infestations.
Call Proactive Pest Control to Handle Your Boxelder Bug Infestation
Although they aren't dangerous, Boxelder bugs are no fun to deal with.
We know very well that these pesky bugs are unwelcomed on your property and inside of your home. But there's no need to fret because eliminating and preventing all kinds of pests is what we do best!
Call Proactive Pest Control to get rid of your Boxelder bug problem today.
Our company is always staying on the cutting edge of the pest control industry. We offer a wide variety of pest, mosquito, termite, and preventative solutions to our clients. We pride our business on keeping our old-fashioned customer service while maintaining the highest training and education levels possible.
If you're in Gwinnett, Barrow, Walton, Athens-Clarke, or surrounding areas, then you're in luck! You're just one phone call away from a free consultation.