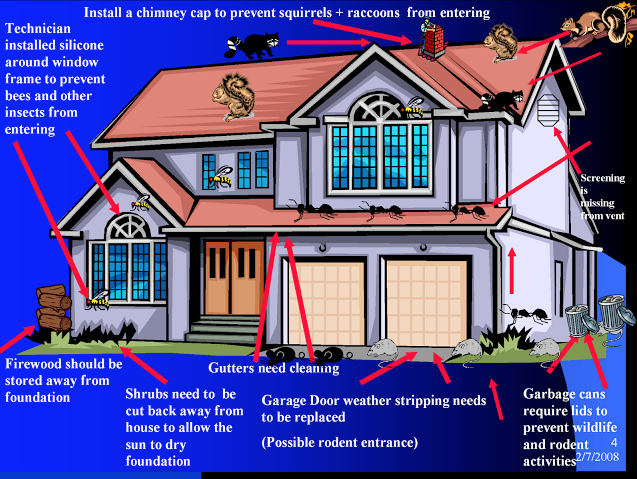 Bugs are a way of life in the South, but they don't have to be a way of life in YOUR home. A common question that I am often asked is "How do I keep bugs out of my home?" There are lots of things you can do that will greatly reduce, if not eliminate, the amount of pests that you have in your home.
Exterior Doors: Check the weather stripping around all of your exterior doors. The easiest way to do this is to stand inside with the door closed. If you can see daylight coming in from around the edges of the door, it's time to replace the weather stripping. Gaps like this are an open invitation for crawling insects. The weather stripping on the bottom of the garage door should be inspected as well.
Windows & Screens: Check all of your windows and screens. Make sure that all of your windows close properly. Visually inspect around the frame of the window. If you see any cracks or openings, you should apply some caulk or silicone to seal the gaps. All screens should be intact and should not have any tears.
Structure of Home: Inspect the main structure of the home. Make sure that there are not any holes, cracks, or other openings which could allow insects into your home. The method and materials used to seal these holes will depend on the type of construction and materials used in the building of your home.
Chimney: Make sure you have a chimney cap installed to prevents rodents such as squirrels and raccoons from entering.
Gutters: Make sure your gutters are clean and that they are not holding water. Dirty or clogged gutters provide a great home and many of the essential elements for pests to survive.
Attic Vents: All attic vents should have some sort of screen on them. This will prevent flying insects, as well as bats and squirrels, from making themselves at home in your attic.
Garbage: Keep indoor and outdoor trash containers clean and sealed. If possible, keep outside garbage cans away from the home.
Shrubbery & Lawn: Keep your grass cut. Any firewood should be stored away from the foundation of the home. All shrubs and tree branches should be trimmed back from the house.
You can make most of the above repairs and changes very inexpensively and easily. Your local Home Depot or Lowe's should carry just about anything you would need. You might find that you can easily make some of the changes without having to buy any materials at all.
If you require further assistance, please feel free to contact us for any of your pest control needs.