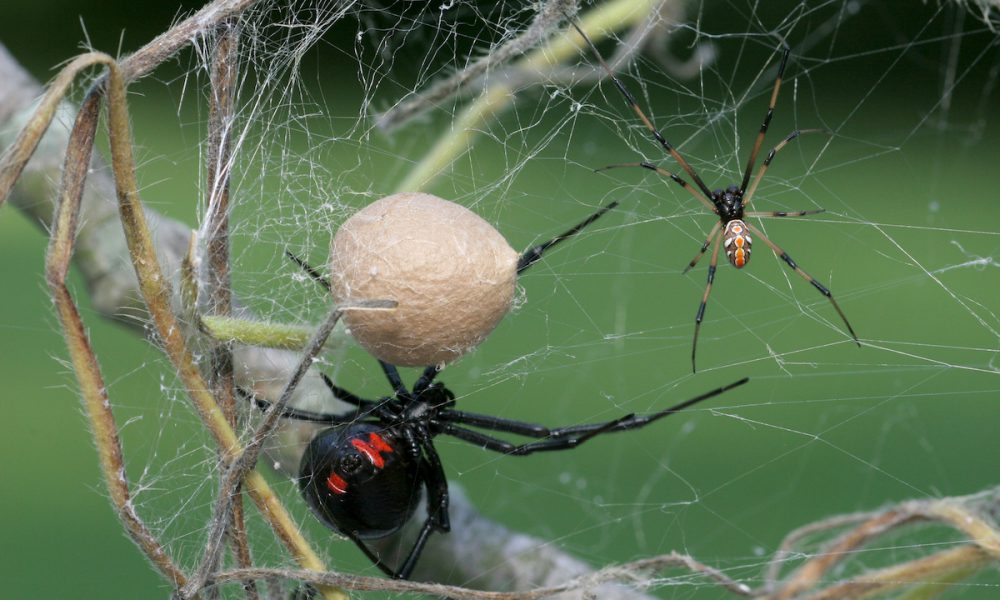 Most people are able to identify a black widow spider upon sight, mainly by their shiny black body, and the red hourglass shape on the underside of their abdomen. The hourglass shape is composed of two red triangles. Sometimes, the color of the hourglass can be yellow or even orange, and every once in a while, you can find a female with only one triangle.
Did you know that only female black widows have the red hour glass figure on their bodies? Male black widows can be grey or black, and sometimes have a series of red dots on their abdomen. Male black widows are also generally smaller in size than their female counterparts.
Why is it important to know what sex you are dealing with?
I recently had a frantic customer call me in reference to a black widow. She stated that she was riding in the front passenger seat of her husbands truck when she saw a black widow. To make things even more scary, her two infant sons were both riding in the back seat at the time as well. The spider was to her bottom right, on top of the casing for the seat belt. As she started moving around, the spider got startled and ran down into the seat belt casing. Upon shining a light down there, I saw the spider, along with the trademark red hourglass on the underside of the abdomen. I was able to apply some product down into the casing, killing the spider. We killed the spider, so we're done, right?!? Maybe…but probably not. Although only a few of them survive into adulthood, female black widow spiders lay egg sacs that can contain anywhere from 200 to 900 eggs. It's always a possibility that the spider had not laid any eggs, and had just recently entered the truck, but the odds are definitely not in my customers favor.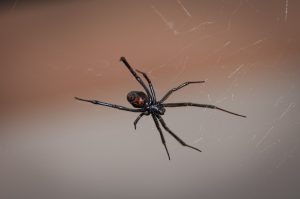 Venom
Black widow Spiders are considered the most venomous spider in North America and their venom is reported to be 15 times stronger than a rattlesnake's venom. They are highly poisonous. The black widow spider bites humans only when they are disturbed.
Bite
The female black widow spider bites are considered to be a threat to humans especially the very young and very old and sick. She typically only bites when disturbed. It feels like a pinprick and the pain starts within minutes and spreads quickly to other body parts. The pain usually lasts for eight to 12 hours.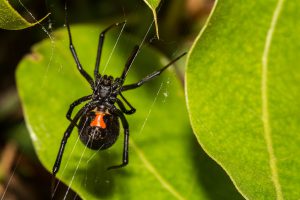 Symptoms
The symptoms of a black widow spider bite are nausea, profuse sweating, severe pain in the back and abdomen, hypertension, muscle aches and diaphragm paralysis which causes breathing difficulty. These symptoms can continue for several days. There is a black widow anti-venom to minimize pain and damage.
Contact Us
Choose Proactive Pest Control for professional, comprehensive, guaranteed pest, and lawn management. The pros at Proactive will work diligently to gain your trust, confidence, and your total satisfaction. CALL US TODAY at 770-800-PEST to schedule a free, no-obligation inspection and evaluation for your home or business. Or, contact us for a FREE consultation. Let us show you why Proactive Pest Control is northeast Georgia's first choice for pest, termite, and lawn services.