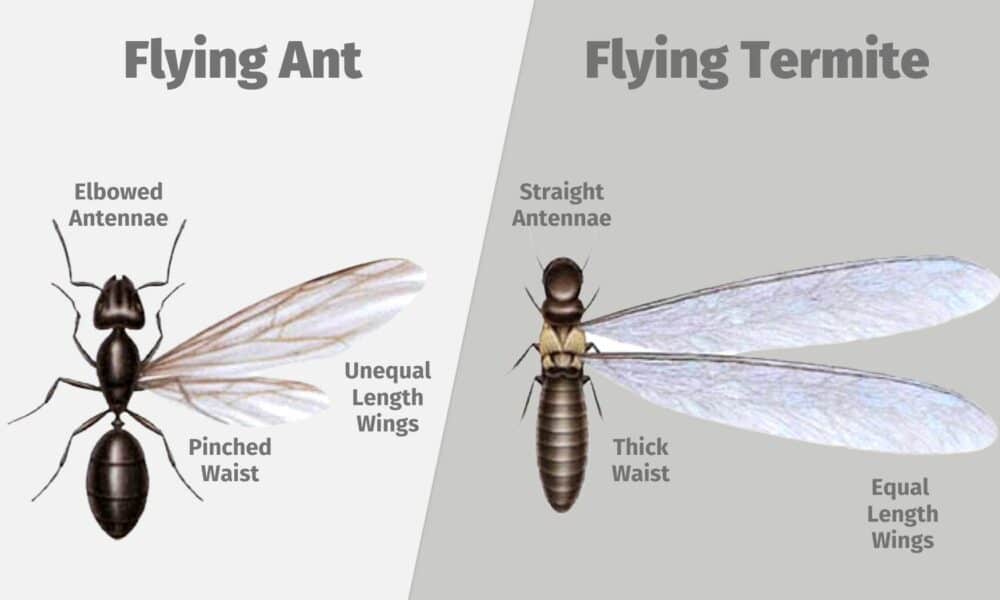 Georgia is considered to be a "hot zone" for termites. We are currently 2nd in the nation in regards to termite claims and damage. It is estimated that termites do about $2 billion worth of damage annually, doing more damage than fires, floods, and storms combined. For these reasons, it is extra important for you to be able to identify termites in your home, and to be able to differentiate between termites and flying ants.
Each year starting around mid to late February, termites start to swarm. A termite swarm is when the reproductives from an existing colony will fly out to look for a new suitable place to mate and create a new colony. To the untrained eye, swarmer termites can look similar to flying ants. We will show you 3 ways that you will be able to tell the two apart.
Flying ants have elbowed antennae. Flying termites have straight antennae.
Flying ants will have a pinched waist, whereas flying termites will have a solid, thick waist.
Flying ants have unequal length wings. The front wings will be longer than the rear wings. Flying termites have two pairs of equal length wings.
We hope that this has been a helpful post. If you have termites, or if you are still unsure, we recommend that you contact us immediately for a free consultation.