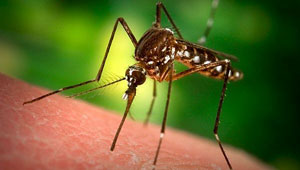 Are mosquitoes harmful to your family's health? Again….the short answer is YES!
Did you know? Worldwide, mosquito-borne diseases kill more people than any other single factor. They are considered the deadliest "animal" in the world.
In the great state of Georgia, sometimes it seems like our state bird should be the mosquito. Unfortunately, we have a very large number of mosquitoes in our state. This year, leading experts are predicting record numbers of mosquitoes. There are lots of different species of mosquitoes, even within the state of Georgia. All of these mosquitoes have different habits such as where they live, how quickly they can breed, how far they fly, what time of day they are the most active, etc. One thing that they all have in common though is that they are all vectors (meaning that they spread) of numerous diseases, some of which can be deadly.
Some of the most common diseases that mosquitoes spread are:
Encephalitis (Eastern Equine Encephalitis, La Crosse Encephalitis, St. Louis Encephalitis, and Western Equine Encephalitis)
Encephalitis is inflammation of the brain. Inflammation can cause symptoms such as confusion, fever, a bad headache, and a stiff neck. Sometimes it leads to symptoms like seizures and personality changes. It can also cause long-term problems, such as trouble with speech or memory. Encephalitis can be deadly.
West Nile Virus
West Nile virus is an infectious disease that first showed up in the U.S. in 1999. Infected mosquitoes spread the virus that causes it. People that get infected with West Nile often have no symptoms to mild symptoms.
West Nile symptoms include a fever, headache, body aches, skin rash, and swollen lymph glands. They can last a few days to several weeks, and usually go away on their own.
If West Nile virus enters the brain, it can be life-threatening. It may cause inflammation of the brain, called encephalitis, or inflammation of the tissue that surrounds the brain and spinal cord, called meningitis.
The elderly and those with weakened immune systems are most at risk. There are no vaccines or specific treatments for West Nile. West Nile can be deadly.
Dengue Fever
Dengue fever can affect infants, young children, and adults. There are over 100 million people world-wide infected with Dengue Fever each year.
Symptoms for Dengue Fever range from a mild fever, to incapacitating high fever, with severe headache, pain behind the eyes, muscle and joint pain, and rash. There are no specific antiviral medicines for dengue.
Dengue hemorrhagic fever (fever, abdominal pain, vomiting, bleeding) is potentially lethal, and affects mainly children.
Malaria
Today, approximately 40% of the world's population, mostly those living in the world's poorest countries, is at risk of Malaria. The disease is found throughout mostly the tropical and sub-tropical regions of the world, and causes more than 300 million illnesses, and at least one million deaths annually. Don't think for a minute that you are safe from contracting this disease because you live in the United States. There are about 1,200 cases of Malaria diagnosed in the U.S. each year.
Many children who survive a case of severe Malaria may suffer from learning impairments or brain damage. Pregnant women and their unborn children are also particularly vulnerable to Malaria, which is a major cause of perinatal mortality, low birth weight, and maternal anemia.
Yellow Fever
Just like all of the above diseases, the yellow fever virus is introduced into the bloodstream via the saliva of the mosquito as it bites. The virus can then be transported around the body, and it can reproduce itself in a various parts of the body, usually the liver, kidneys, and blood vessels.
Even though most cases of yellow fever are mild, yellow fever can also be a life-threatening disease causing hemorrhagic fever and hepatitis. Each year there are an estimated 200,000 cases of yellow fever worldwide, leading to approximately 30,000 deaths.
During the late 18th century, a severe yellow fever outbreak struck New England and several North American port cities. The city of Philadelphia is thought to have lost about 10 percent of its population during the 1793 yellow fever epidemic.
See our blog article titled "West Nile Virus and the current epidemic" for great tips on how to reduce the amount of mosquitoes around your home.
Please contact us for information about our mosquito reduction program.