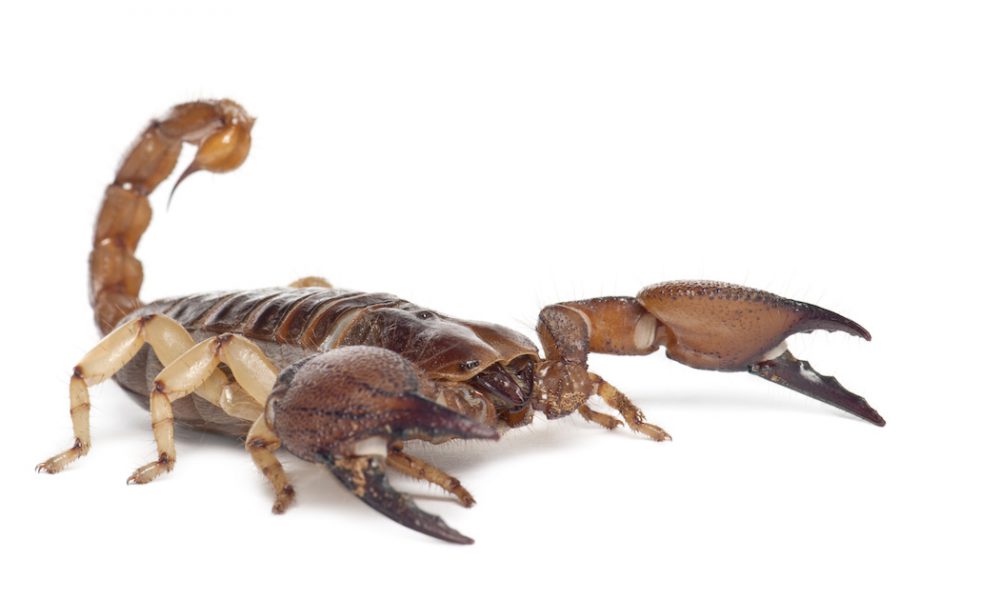 As I sit here at home starting to write this blog article, I am watching Indiana Jones and the Kingdom of the Crystal Skull. If you have ever seen it, you might remember a few lines in the movie that pertain to scorpions:
I just got stung by a scorpion! – Henry Jr.
How big was it? – Henry Sr. / Indiana
It was huge! – Jr.
Good! – Sr.
What do you mean good?!? – Jr.
When it comes to scorpions, the bigger the better! If a small one bites ya, don't keep it to yourself. -Sr.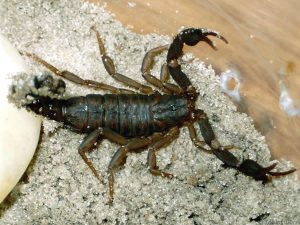 Dangerous?
Probably like myself, you have always heard that smaller scorpions are more dangerous than the larger ones, because if a small scorpion bites you, it injects you with a lot more, if not all of its venom. This is due mainly to the fact that they do not have the control over the release of their venom that the larger scorpions have. In some areas of the world, there are some extremely dangerous scorpions that can and do on occasion result in human fatalities from their stings. This, however, is not the case in Georgia, as well as in the remainder of the southeastern United States.
Scorpions are fairly common throughout the state. Even though they seldom sting, their presence around the home is unwelcome by most people. Contrary to popular belief, except for a few species found in the southwest, the venom of most scorpions (including all of the species in Georgia) is not potent enough to be fatal to most healthy humans. Scorpion stings are usually no more poisonous than those of bees or wasps.
Appearance
Scorpions in our part of the world reach an adult length of about 2 1/2 to 3 inches. The scorpions found in Georgia are black, brown or gray in color. The claws and tails are the most easily recognizable features of scorpions, and are the main reasons they're so scary looking. They use their large pincher / claw like front legs for defense, climbing, courtship and to capture prey. Their stinger is at the tip of a long, narrow tail and is used for defense and killing prey.
Natural pest control
Believe it or not, scorpions play a very important role in nature. They are predators that prey on large numbers of insects, including many they could easily become "pests". Thus, scorpions are a form of natural pest control. They are not out there looking for people to sting, but rather prefer to live a very cryptic life. Most scorpions only venture out in search of food and / or mates during the hours of darkness.
How to control
To control scorpions, remove old boards, cardboard, loose rocks, wood piles, old mattresses, and other debris from near occupied buildings. Use caulking to close small cracks where pests may enter. Pay special attention to areas where water pipes, cables, and other fittings enter the building. Install door sweeps in all exterior doorways. Door sweeps help to close off the area between the bottom of the door and the floor.
Fascinating Facts
Here are some fascinating facts about scorpions:

Their vision is very poor, so they often hide in ambush for their prey.
Scorpions use their stinger to paralyze larger prey so they can eat it.
Scorpions eat insects, spiders, centipedes and millipedes, and even small reptiles.
There are about 2,000 species of scorpions; about 40-50 of them have poison strong enough to kill people.
Female scorpions give birth to live young. After birth, the young scorpions climb onto the back of the mother and remain fastened by their pincers until after the first molt.
A mother scorpion might eat her offspring if she becomes hungry.
After mating, a female scorpion might become aggressive and kill and eat the male scorpion.
Do not try to drown a scorpion. A scorpion can hold its breath for up to 6 days!
Scorpions have florescent materials on their shell. With ultraviolet light, they can glow in the dark.
Two Types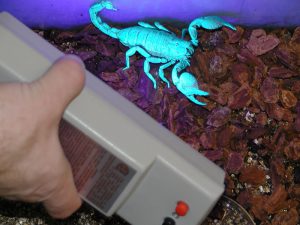 In Georgia, there are two kinds of scorpions found. The first one is the Southern Devil Scorpion, which is also called the Southern Stripeless Scorpion or the Plain Eastern Stripeless Scorpion. It is found in the Piedmont region and the mountains of Central and North Georgia. The second type of scorpion found in Georgia is the Striped Bark Scorpion, which is located in the Coastal Plain and sandy soil areas. It has stripes running down its back and a dark triangle shape at its head. The striped bark scorpion is the most common scorpion encountered in the United States.
Please contact us if you require further assistance with controlling scorpions in or around your home. Visit our Pest I.D pages for more info about scorpions.
Contact Us
Choose Proactive Pest Control for professional, comprehensive, guaranteed pest, and lawn management. The pros at Proactive will work diligently to gain your trust, confidence, and your total satisfaction. CALL US TODAY at 770-800-PEST to schedule a free, no-obligation inspection and evaluation for your home or business. Or, contact us for a FREE consultation. Let us show you why Proactive Pest Control is northeast Georgia's first choice for pest, termite, and lawn services.