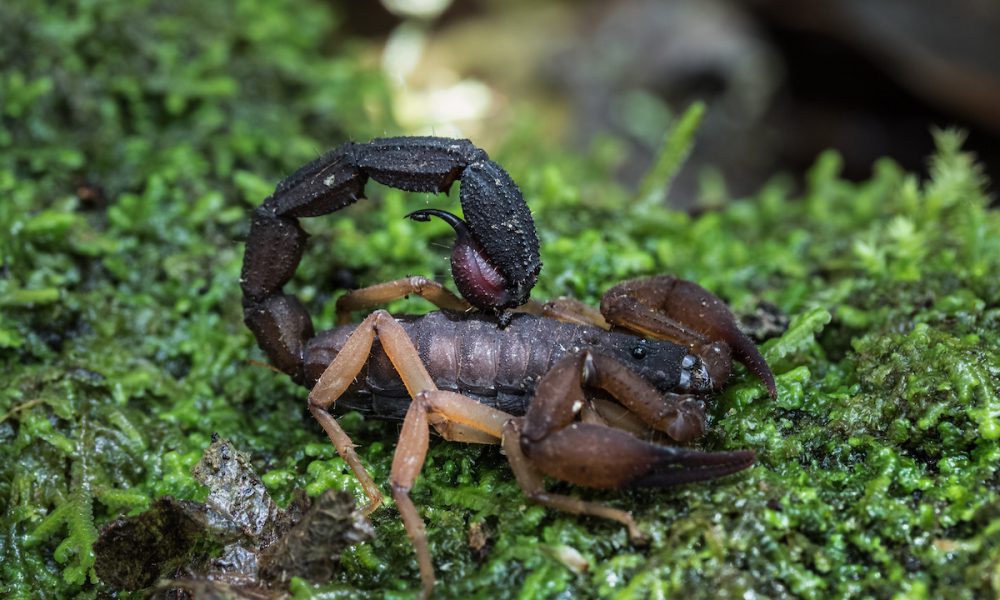 There are over 2,500 scorpion species and 22 families living today. That is so many scorpions and even more potential to run across one. Quite frankly, as interesting as they are, you don't want to run into one or stick your foot in a boot with a scorpion hiding inside. So let's learn about the ten main types of scorpions and more.
Thankfully, only two are native to Georgia; the Stripped Scorpion and the Devil Scorpion.
Here are ten different types of scorpions around the world:
Arizona Desert Scorpion
California Common Scorpion
California Swollen Stinger Scorpion
Giant Whipscorpion
Pale Windscorpion
Pseudoscorpion
Scorpionfly
Southern Devil Scorpion
Striped Bark Scorpion
Tailless Whipscorpion
AllowProactive Pest Control to educate you a bit more about the feared scorpion.
National Geographic Tells Us About the Scorpion
For the facts, consult the experts. National Geographic states that
"Scorpions are members of the class Arachnida and are closely related to spiders, mites, and ticks. They are commonly thought of as desert dwellers, but they also live in Brazilian forests, British Columbia, North Carolina, and even the Himalayas. These hardy, adaptable arthropods have been around for hundreds of millions of years, and they are nothing if not survivors. Such survival skills allow scorpions to live in some of the planet's toughest environments. Researchers have even frozen scorpions overnight, only to put them in the sun the next day and watch them thaw out and walk away. But there is one thing scorpions have a difficult time living without—soil. They are burrowing animals, so in areas of permafrost or heavy grasses, where loose soil is not available, scorpions may not be able to survive".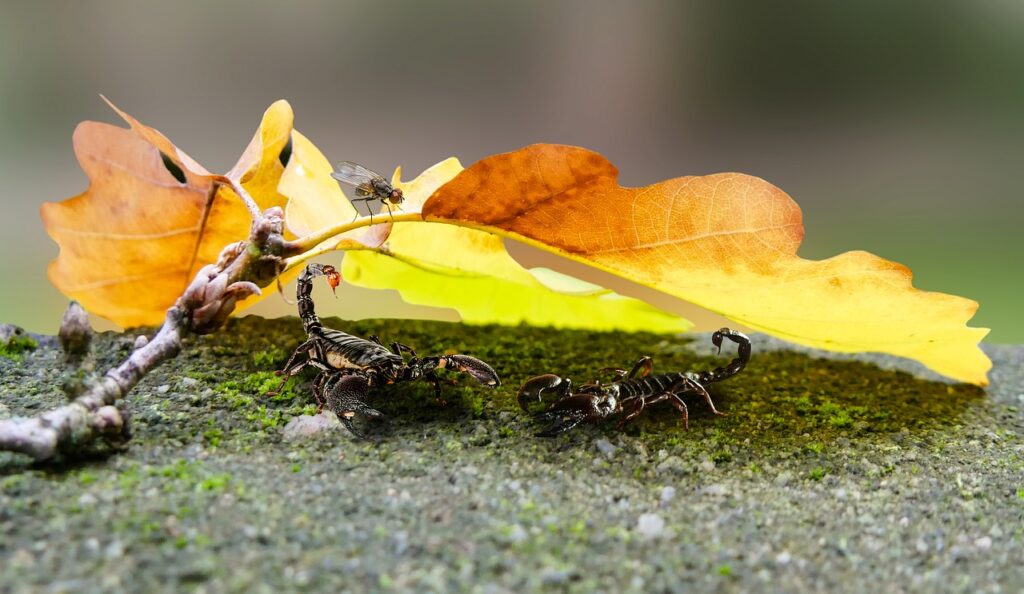 A Brief History of the Scorpion
How have scorpions survived for so long in harsh climates like the deserts and the rainforests? There are several ways.
They have a tough exoskeleton that protects them from harm.
Scorpions can freeze at night and walk away in the morning, surviving the most extreme of temperatures.
Their camouflage is perfect for the areas they hide in.
The diet of the scorpion can vary significantly according to what is available where they are. And with a slow metabolism, they can go a long time without food.
Even with a slow metabolism, they can jump into action when prey is nearby.
Their venom is specifically designed for the area they live in and the insects there for them to eat.
These traits have benefitted the scorpion all these years in surviving the planet and its changes.
Attributes of the Scorpion
All types of scorpions are scary-looking little pests that appears to be a cross between a lobster and a spider. In fact, they are a predatory arachnid. Scorpions have eight legs, with the front two being pincers. The segmented tail has the feared stinger at the end and is often curled up and over its back.
Here are a few of the scorpion facts you should know.
1. The scorpion is nocturnal, hiding in the daytime under rocks, in cracks, under tree bark, and in burrows. If you are out in the woods at night, wear protective clothing and carry a UV LED flashlight with you.
2. Although nocturnal, you can see them at night as they glow in the dark. That is why you carry the UV light. Then you can see, identify, and avoid scorpions.
3. Did you know scorpions drink, not eat? They will pull a part off an insect and drink the "juices" inside. However, some of them can go over 12 months without a meal.
4. The majority of scorpions do not pose a fatal threat to adult humans, yet the sting is always quite painful.
5. Yes, there is a constellation that resembles a scorpion called Scorpio.
6. The scorpion's predators are the frogs, lizards, snakes, birds, and mammals.
7. They are a delicacy in the areas of West Africa and East Asia. Fried scorpion, anyone?
Pretty interesting insects, right?
Now that you are more familiar, here are the ten varieties Proactive Pest Control has chosen to focus on today.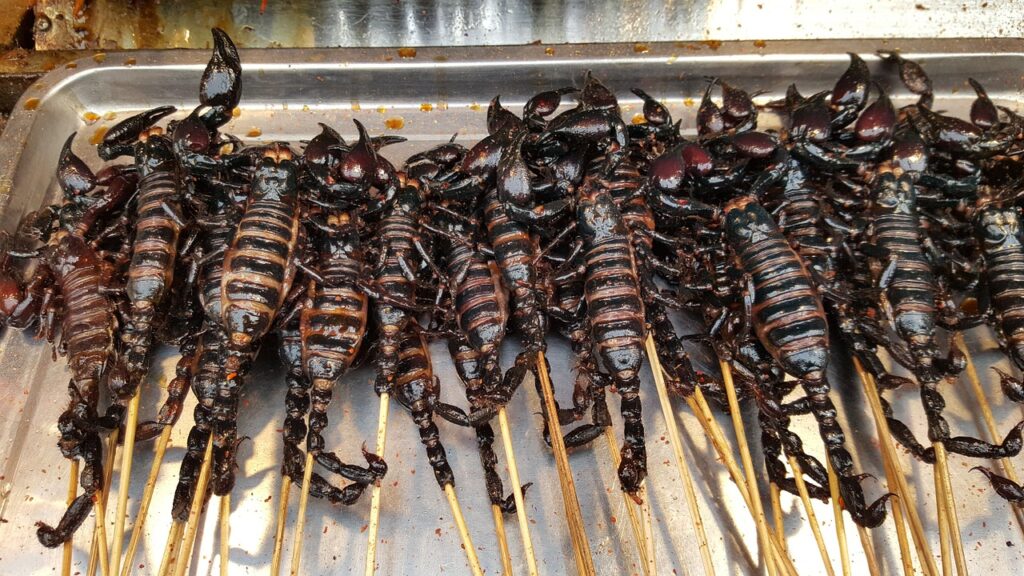 Ten Different Types of Scorpions Around the World
Arizona Desert Scorpion- This giant hairy scorpion is the largest found in North America, growing to 5.5 inches long. It is yellow with a darker top. Luckily, its venom is not very toxic.
California Common Scorpion- Causing pain but no danger to humans, this scorpion is dark brown with pale yellow legs and large pincers.
California Swollen Stinger Scorpion- Difficult to see at night; this dark brown scorpion has mighty arms and large pincers. A swollen bulge just before the stinger located at the end of the tail makes this scorpion identifiable.
Giant Whipscorpion- Although not poisonous, this scorpion has a narrow whip-like tail, unlike others. And they are best not handled since they secrete a stinky substance.
Pale Windscorpion- According to Insect Identification,
"The Pale Windscorpion looks like a cross between a spider and a scorpion but lacks the most dangerous parts of both."
They have three body parts, where scorpions usually have only 2. And they do not have tails or stingers. And although they look like they have eight legs, there are only six since the front two and pedipalps used to hold prey while they eat.
Pseudoscorpion- Otherwise known as the "false scorpion," this one is a member of the arachnids. They are harmless hitchhikers that are common in homes. They are tiny and have no tail but large pincer arms.
Scorpionfly- The scorpionfly does have a tail but does not sting or bite. And they have stripped wings making it an interesting-looking fella.
Southern Devil Scorpion- One of the tropical scorpions, this little devil has quite a painful sting. Still, it usually is not dangerous for humans. They are often found hiding in crawlspaces and cellars.
Striped Bark Scorpion- Two-toned, long, and slender, this scorpion is also not harmful with a painful sting. Humans often find them in their shoes or sleeping bags if not careful when outside.
Tailless Whipscorpion- And number 10 on the list, this one is precisely what it says. It is tailless and creepy. Their long legs whip around them while they feel their way.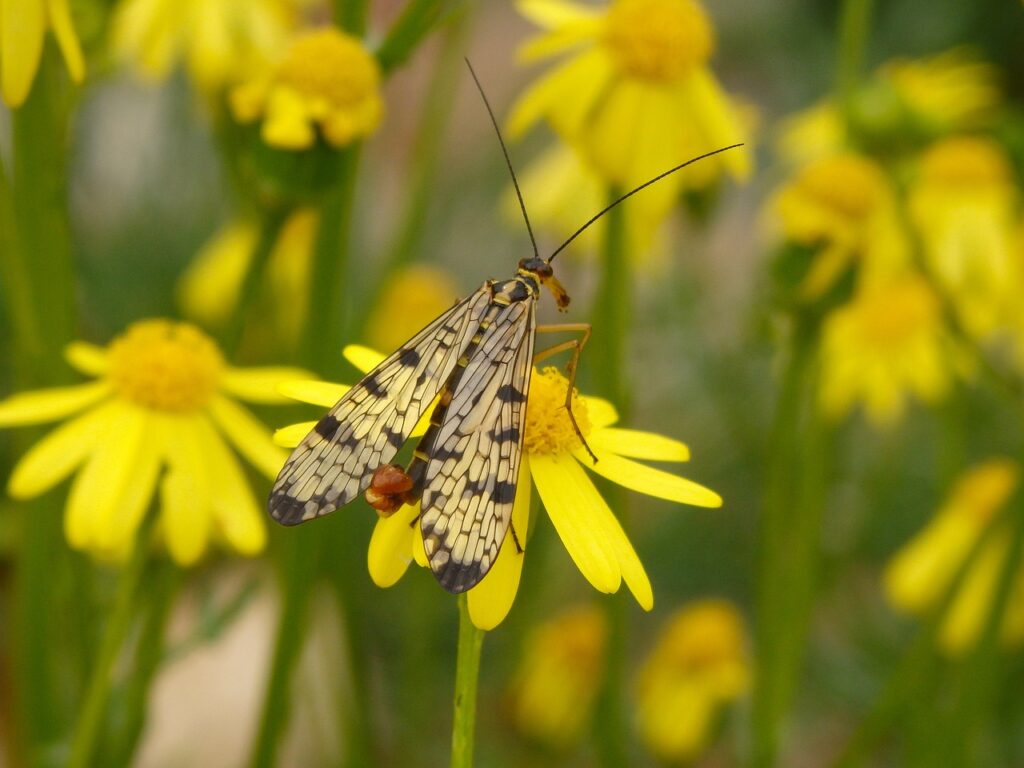 The Types of Scorpions Found in Georgia
The two native scorpions to Georgia are the Stripped Scorpion and the Devil Scorpion. Here is a brief description of each so you can identify them if you run into a scorpion.
The Striped Scorpion (Centruroides hentzi) is a sandy or coastal plain species. They are occasionally found in homes and cabins. Still, their favored habitat is under the bark of either alive or dead long-leaf pines and slash pine. They hide under bark that is flat to the tree and thus is not frequently seen by many Georgians. The three dotted stripes running down the back are the most recognizable characteristic of this species.
The Devil Scorpion (Vaejovis carolinianus) is in Central and Northern Georgia. The devil scorpion is common in many areas of Atlanta. They are found from Macon northward throughout all of North Georgia. This scorpion is uniform in color, which makes it distinguishable from other scorpions.
Georgia Scorpion Pest Control
At Proactive, we see a whole myriad of different insects. And perhaps the scorpion is one of the creepier pests we encounter. Understanding the attributes of each insect we treat helps the technicians to follow patterns and virtually eliminate the pests in your home.
That said, you can do things as a homeowner to ensure all types of scorpions do not get into your home.
Enroll in a monthly maintenance pest control plan to secure the perimeter of your home from insect invasion.
Keep tree bark and mulch from being near doorways and up against the foundation of the home. Try an annual turning of the mulch (carefully) and spray for insects at that time.
Eliminate cracks in the home's exterior walls. Seal them up so the scorpion cannot enter your house.
Replace cracked and broken window and door seals.
Keep shoes and boots inside, rather than outside by the door.
When camping or picnicking outdoors, always shake out blankets, sleeping bags, and shoes before using them. You never know what's hiding inside.
Additionally, let's dispel the rumor that a housecat is a good deterrent for the scorpion. Yes, a cat is quick enough to catch one, but if the scorpion gets in a good sting, the cat will be in danger.
Contact Us
Choose Proactive Pest and Lawn for professional, comprehensive, guaranteed pest management. The pros at Proactive will work diligently to gain your trust, confidence, and your total satisfaction. CALL US TODAY at 770-800-PEST to schedule a free, no-obligation inspection and evaluation for your home or business. Or, contact us for a FREE consultation. Let us show you why Proactive Pest and Lawn is northeast Georgia's first choice for pest, termite, and lawn services.