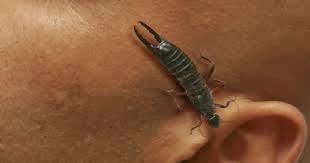 We have probably all heard the tale that earwigs can crawl into your ears and bite you while you are sleeping and lay eggs in your brain, causing serious injury or even death. I have lost count of the amount of times that I have been asked about this. The fact of the matter is that it's absolutely not true…it's just a MYTH!
Earwigs are nocturnal insects. They enjoy hiding in moist, dark areas in the daytime, and come out at night to play and feed. Earwigs have been known on rare occasion to crawl into the ear, but they aren't going there to lay eggs and burrow into your brain.
Just the same way that spiders, beetles, cockroaches and other insects can crawl into your mouth, nose or ears, earwigs also have the capability of entering your ears. However, since they prefer cool places, your brain is certainly not a preferred location for them, and not one they are seeking out to lay their eggs.