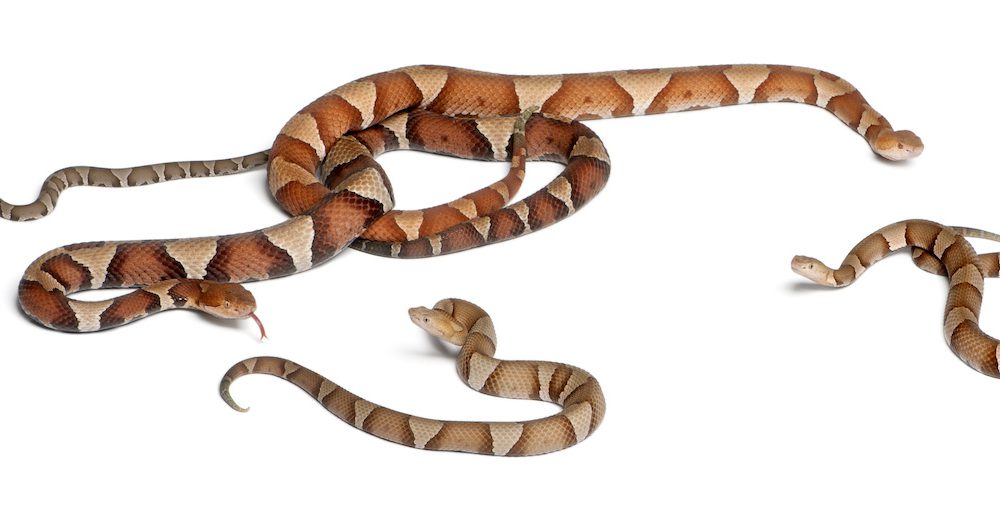 Be on the lookout. August and September are the prime time for Georgia's snakes, especially baby snakes. Over the next two months, the young of most of the state's 41 snake species will be born. About half the species will give live birth.
This is partly because snakes are most active whenever temperatures are between 80-90F. Snakes are more active most of the day during the spring, and during the early mornings and late afternoons throughout the summer.
Most North American snakes are born between midsummer and early fall. Snakes are especially conspicuous in the spring when they first emerge from winter dormancy, but they reach their highest numbers in August and September.
Common GA Snakes
Some of Georgia's common egg-laying snakes include rat snakes, eastern racers, rough green snakes, ringneck snakes, worm snakes, corn snakes, eastern hog-nosed snakes, coral snakes, kingsnakes and coachwhips. Most of them lay their eggs in spring in warm, moist sites under logs, rocks, boards, in rotten stumps, sawdust piles or in loose soil.
Some of the 41 species giving live birth during this season include garter snakes, timber rattlesnakes, eastern diamondbacks, copperheads, plain-bellied water snakes, midland (or northern) water snakes, brown snakes, and ribbon snakes.
Some species may have as many as 80 babies at once. The babies are extremely small. They're 6 to 9 inches long and weigh between 1.5 and 4 grams each.
Bites
Snakes usually only bite when provoked. This can happen if someone accidentally steps on a snake. In the U.S., only about 25 types of snakes are venomous. The most common venomous snakes are:
Rattlesnakes
Copperheads
Cottonmouth (also called water moccasin)
Coral snakes
Pain at the site of the bite, slowly spreading outward as the venom diffuses through your muscle tissue and enters the bloodstream.
Symptoms
Symptoms at or near the bite may include:
Fang marks in the skin
Swelling that may spread within hours
Severe pain, burning, and warmth
Redness and bruising
Swollen glands (enlarged lymph nodes)
Symptoms affecting the body may include:
Nausea or vomiting
A lot of sweating
Fever or chills
Weakness, dizziness, or fainting
Trouble swallowing
Numbness and tingling, especially in the mouth
Trouble breathing
Confusion and feeling anxious
Weakness
Treatment
If you get bitten by a snake, the immediate first aid steps you can take immediately include remaining calm, cleaning the wound, and immobilizing the affected area. However, it's essential to get to a medical facility immediately for emergency treatment. The recovery can be good if treated in time.
Here are some tips that you should keep in mind:
Call 911 immediately.
Note the time of the bite.
Stay calm; keep your movement as still as possible because the venom can travel more quickly through the body.
Loosen up constricting clothing or jewelry because the area surrounding the bite will likely swell.
Don't allow the victim to walk. Carry or transport them by vehicle.
Do not kill or handle the snake. Take a picture of the snake if you can but don't waste time hunting it down.
Over the next month or so, more snakes will be present than at any other time of the year, which will prompt people to ask questions about them.
Contact Us
Choose Proactive Pest Control for professional, comprehensive, guaranteed pest, and lawn management. The pros at Proactive will work diligently to gain your trust, confidence, and your total satisfaction. CALL US TODAY at 770-800-PEST to schedule a free, no-obligation inspection and evaluation for your home or business. Or, contact us for a FREE consultation. Let us show you why Proactive Pest Control is northeast Georgia's first choice for pest, termite, and lawn services.