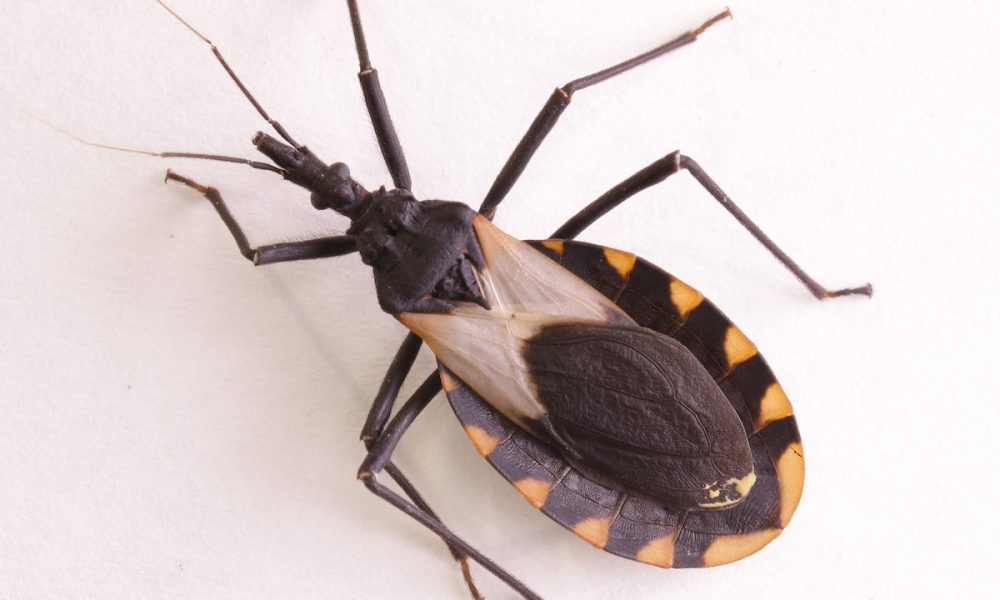 Assassin bugs are in the Reduviidae family and are predatory insects that can be of great benefit to gardeners. These bugs capture and feed on a wide variety of prey, including other bugs, bees, flies, and caterpillars. Their prey doesn't stand a chance since they capture with a quick stab of the assassin bug's long mouthparts.
With 150 species of assassin bugs in North America, the assassin bugs are beneficial insects which perform a service to the gardener and farmer who prey on insect eggs, leafhoppers, aphids, larvae, boll weevils, and others.
Also Called Kissing Bugs
This family of bugs doesn't get the name "assassin" because it transmits Chagas disease (also known as kissing bug disease). It can carry a parasite that causes kissing bug disease in its fecal matter. We call them kissing bugs because when they bite humans, they usually do so around the face and mouth. They can transmit diseases to humans and animals.
Bite
The wheel bug along with others in the assassin family of insects, will bite if picked up and handled carelessly. The wheel bug bite is immediately and intensely painful. Assassin bugs hang out near their prey which are mammals (including humans) with vertebrae. Assassin bugs are considered aggressive, and they are not afraid to attack creatures much larger than themselves.
Persons who are bitten should wash and apply antiseptic to the site of the bite. Oral analgesics, such as aspirin or ibuprofen, may be useful to reduce the pain.
Chagas' Disease
The assassin bugs can spread a parasite that causes Chagas' disease through its feces. Chagas' disease is dangerous, but it is rare to catch it.
The main methods of spreading the Chagas' disease are:
In Chagas-endemic areas
Through an insect, vector called a triatomine bug
They bite and ingest blood, and then they defecate on the person
Types
Assassin bugs are members of the extensive taxonomic family Reduviidae (Class Insecta, Order Hemiptera). This is a very large family of Hemipterans that contains more than seven thousand individual species. They are found all over the world, and there are approximately one hundred and fifty-nine species in North America.
Hurt Plants?
Assassin bugs do not hurt plants because they do not feed on plants. They can damage the plants while they are on the hunt for insects on plants. These bugs catch their prey and then hold them down with their front legs while they inject toxin and stab it to death with their beak-like mouth.
Life Cycle
Hemipterans like assassin bugs undergo metamorphosis in three stages:
Egg
Nymph
Adult
The female assassin bug lays clusters of eggs on plants. Wingless nymphs hatch from the eggs and molt several times to reach adulthood in about two months.
Symptoms
They might include:
Fever, fatigue, or other flu-like symptoms
Rash
Soreness or sore where the parasite has entered the body
Vomiting, diarrhea, or loss of appetite
Swollen eyelids, if the parasite has entered through the eyes (known as Romaña's sign)
How to Treat the Bite?
People who are bitten should wash and apply antiseptic to the site of the bite, and take ibuprofen or another analgesic to reduce the pain, he says. Caladryl or topical corticosteroids may help reduce swelling or itching at the site of the bite.
Please let our team of professionals help you with any pests in your home and property. Don't spend your valuable time dealing with things that we can handle for you. If you're in any of the surrounding areas, give Proactive Pest Control a call at 770-800-PEST or 770-800-7378.
Contact Us
Choose Proactive Pest Control for professional, comprehensive, guaranteed pest, and lawn management. The pros at Proactive will work diligently to gain your trust, confidence, and your total satisfaction. CALL US TODAY at 770-800-PEST to schedule a free, no-obligation inspection and evaluation for your home or business. Or, contact us for a FREE consultation. Let us show you why Proactive Pest Control is northeast Georgia's first choice for pest, termite, and lawn services.