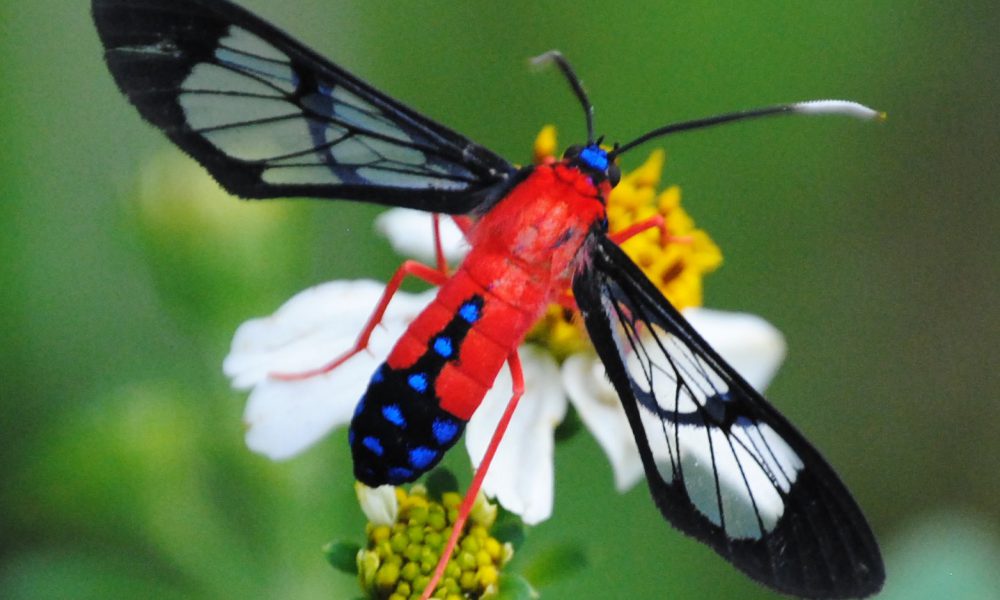 There are over 160,000 species of moths in the United States. Moths are a group of insects that are related to butterflies. They belong to the Lepidoptera order. There are more than 54 moth species documented in Georgia.
In this series, we will discuss the following moths:
Luna Moth
Scarlet-Bodied Wasp Moth
Scarlet-Bodied Wasp Moth
The scarlet-bodied wasp moth is a member of the Tiger moth family. They are colorful and brightly patterned.
Classification
Kingdom:   Animalia
Phylum:     Arthropoda
Class:        Insecta
Order:        Lepidoptera
Family:       Arctiidae
Genus:       Cosmosoma
Species:     Myrodora
Identification
The scarlet-bodied wasp moth is easily identified by the bright red body and transparent wings. It has a metallic blue middorsal line on abdomen broadens to cover the tip. This moth has margins of forewing and hindwing are black. Part of the body and its legs look flocked in red. As moths, they don't have any jaws, and can't even bite an attacker.
WingSpan
Their wingspans stretch more than 1.2 inches.
Caterpillar Hosts
In their larval stage, these moths feed on Climbing Hempweed.
Range
Florida and west along the Gulf Coast to Louisiana and Texas. Their habitat consists of coastal plains. They are active from late spring through summer.
Life Cycle
Scarlet-bodied wasp moths have to avoid being eaten by predators while mating. So, the male moth, in order to protect his intended during courtship, covers her with a bridal veil of poison. The moths are actually immune to this toxin. The poisonous cloud prevents predators from getting near the mating insect pair. Native to Florida, the scarlet-bodied wasp moth is the only moth or insect known to transfer a chemical defense in this way.
As a caterpillar, the insect feeds on a non-toxic plant, climbing hempweed. Then, when it becomes a moth and is ready to mate, the male changes his eating habits. As darkness falls on his big night, he visits the poisonous dogfennel plant. Dogfennel is easy to spot in pastures, because the cows eat all the grass around it, but leave the tall toxic plant standing.
The small red and black moth stores the toxins in a special pouch. The pouch, located on his underbelly, is filled with fibers that have a cotton candy consistency.
Please let our team of professionals help you with any pests in your home and property. Don't spend your valuable time dealing with things that we can handle for you. If you're in any of the surrounding areas, give Proactive Pest Control a call at 770-800-PEST or 770-800-7378.
Contact Us
Choose Proactive Pest Control for professional, comprehensive, guaranteed pest, and lawn management. The pros at Proactive will work diligently to gain your trust, confidence, and your total satisfaction. CALL US TODAY at 770-800-PEST to schedule a free, no-obligation inspection and evaluation for your home or business. Or, contact us for a FREE consultation. Let us show you why Proactive Pest Control is northeast Georgia's first choice for pest, termite, and lawn services.