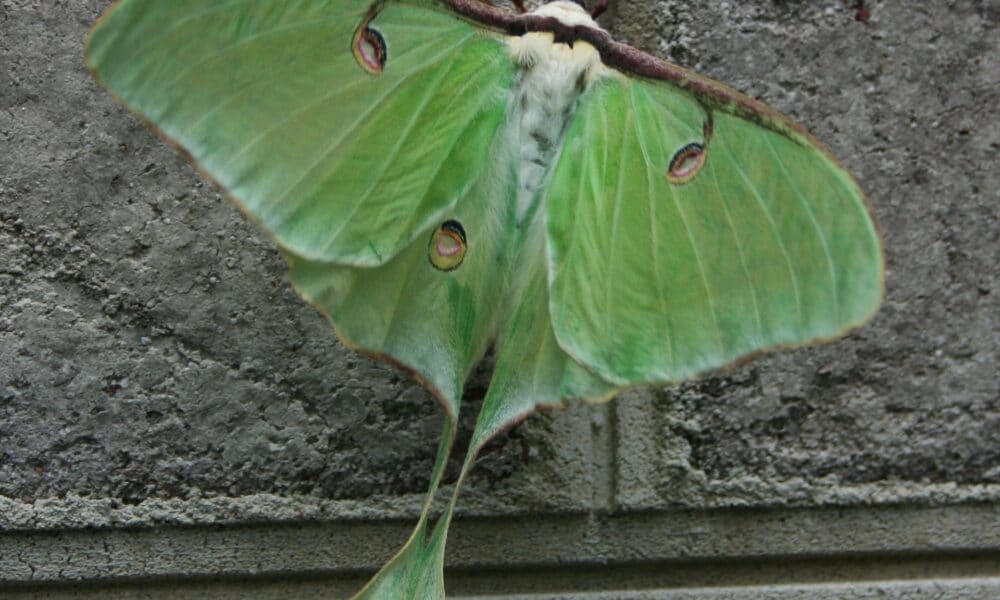 There are over 160,000 species of moths in the United States. Moths are a group of insects that are related to butterflies. They belong to the Lepidoptera order. There are more than 54 moth species documented in Georgia.
In this series, we will discuss the following moths:
Luna Moth
Scarlet-Bodied Wasp Moth
Luna Moth
The luna moth, Actias luna (Linnaeus), is possibly the most beautiful moth. It appeared on a first-class United States postage stamp issued in 1987. It was selected to be on the front cover of A Field Guide to Moths of Eastern North America in 2005. The luna moth is in the 2007 television commercials for the sleep aid Lunesta.
Name
The reason it is called luna is from its moon-like spots.
Appearance
The adult wingspan is 75 to 105 mm. Adult luna moths are large green moths. They have a long tail on each hind wing and discal eyespots on both the fore and hind wings.
Luna Moth, common name for an American moth that is green with a yellow stripe on each side. The luna moth grows to a length of 3 inches before pupation. Its wingspread is approximately 3.5 inches. The luna moth's wings are light green, with a maroon border on the front.
Are they harmful or poisonous?
Luna moths are possibly the most harmless creatures on Earth. Lunas are completely harmless at every stage. They are also not poisonous to eat.
Life Span
Adult luna moths live for approximately one week.
Habitat
Luna moths primarily occur in timbered areas. They prefer deciduous woodlands that have hickory, walnut, persimmon and birch trees.
Diet
Luna moth caterpillars eat the foliage of hickory, walnut, sweetgum, and persimmon trees.
Male or Female?
It is easy to observe the gender differences between male and female luna moths while they are still in cocoons by looking at the markings on the outside of the cocoon. Once a luna moth has hatched, you can tell the female from male Luna months by looking at the antennae, body shape, and color of the bodies.
Scientific Classification
The luna moth belongs to the:
Family: Saturniidae
Order: Lepidoptera
Classified: Actias luna
Flight
One brood from May-July in the north, two to three broods from March-September in the south.
Range
These moths are found in Nova Scotia west to Saskatchewan and eastern North Dakota; south to central Florida, the Gulf Coast, and eastern Texas.
Please let our team of professionals help you with any pests in your home and property. Don't spend your valuable time dealing with things that we can handle for you. If you're in any of the surrounding areas, give Proactive Pest Control a call at 770-800-PEST or 770-800-7378.
Contact Us
Choose Proactive Pest Control for professional, comprehensive, guaranteed pest, and lawn management. The pros at Proactive will work diligently to gain your trust, confidence, and your total satisfaction. CALL US TODAY at 770-800-PEST to schedule a free, no-obligation inspection and evaluation for your home or business. Or, contact us for a FREE consultation. Let us show you why Proactive Pest Control is northeast Georgia's first choice for pest, termite, and lawn services.