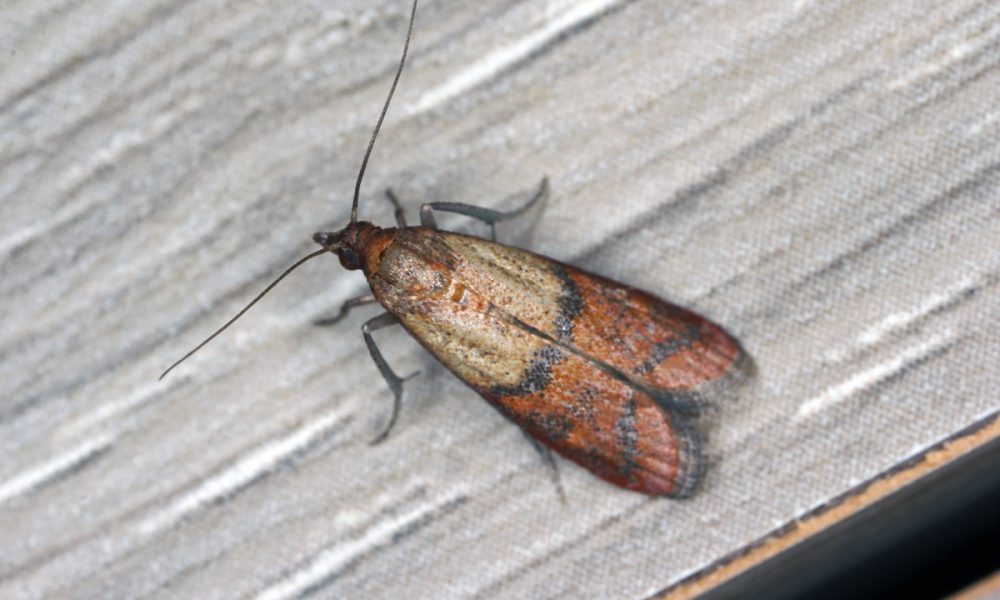 There are over 160,000 species of moths in the United States. Moths are a group of insects that are related to butterflies. They belong to the Lepidoptera order. There are more than 54 moth species documented in Georgia.
In this series, we will discuss the following moths:
Luna Moth
Scarlet-Bodied Wasp Moth
Indianmeal Moth
The Indianmeal moth, Plodia interpunctella (Hübner), is also spelled Indian-meal moth and Indian meal moth. It is a very common household pest, feeding principally on stored food products. Other common names for this moth are weevil moth, pantry moth, flour moth or grain moth.
The Indianmeal moth it has been called the most troublesome pest of stored products commonly found in American homes or grocery stores. The larvae are general feeders and can be found in cereals, whole grains, grain products, bird seeds, dried fruit, dog food, dried milk, nuts, and spices. This moth received its common name from the United States where it was found to be a pest of meal made of "Indian corn" or maize.
As they feed and crawl, the larvae spin silken threads which causes the damage. This process webs the particles of food together. Afterward, small moths fly in a zigzag fashion around kitchens and other indoor areas.
Classification
Here is the classification breakdown:
Kingdom Animalia (Animals)
Phylum Arthropoda (Arthropods)
Class Insecta (Insects)
Order Lepidoptera (Butterflies and Moths)
Family Pyralidae
Tribe Phycitini
Genus Plodia
Species P. Interpunctella
Identification
Indianmeal moths have a 5/8 inch wingspan and are pale gray. They are easily distinguished from other grain infesting moths by the reddish-brown or coppery luster of their outer forewing. Fully grown larvae are 1/2 inch and have brown heads and are dirty white, sometimes tinged with green, yellow or pink. They are extremely active.
Life Cycle
Adult females are known to deposit up to 300 eggs near or on food materials. Within two weeks, larvae hatch and begin actively feeding. As they move they spin silken threads throughout the infested foods, which may become matted with webbing. For approximately two weeks until fully grown, larvae feed and select a pupation site (cracks and crevices, pantry walls, ceilings) where they spin cocoons. Pupae transform into adults in about 30 days. The entire life-cycle requires 4-6 weeks to complete, and there may be five overlapping generations per year, depending on temperature.
The Indianmeal moth is often introduced into a home through packaged dry food goods and groceries purchased at the store.
How to Control
Inspect foods for possible infestation before you purchase. Look for webbing and small holes in the packaging.
Store susceptible food products in tightly sealed containers.
Infested food items can be thrown away or salvaged by freezing for one week.
Clean up food spills promptly, paying close attention to cracks and crevices.
Vacuum problem areas in the kitchen. Empty after use to prevent reinfestation.
The Pantry Pest Trap uses a powerful attractant to detect adult moths.
Release Trichogramma wasps to attack and destroy pest eggs. These tiny beneficial insects are very effective because they prevent the pest from reaching the destructive larval stage.
Apply organic diatomaceous earth for long-lasting protection. It looks like broken glass under the microscope. DE kills by scoring an insect's outer layer as it crawls over the fine powder. Contains NOtoxic poisons!
Made from citrus peel extract, Orange Guard kills and repels many bugs on contact. Spray anywhere insects hide — in kitchens, pantries and under cabinets and appliances! Safe for use around food, people, and pets.
Please let our team of professionals help you with any pests in your home and property. Don't spend your valuable time dealing with things that we can handle for you. If you're in any of the surrounding areas, give Proactive Pest Control a call at 770-800-PEST or 770-800-7378.
Contact Us
Choose Proactive Pest Control for professional, comprehensive, guaranteed pest, and lawn management. The pros at Proactive will work diligently to gain your trust, confidence, and your total satisfaction. CALL US TODAY at 770-800-PEST to schedule a free, no-obligation inspection and evaluation for your home or business. Or, contact us for a FREE consultation. Let us show you why Proactive Pest Control is northeast Georgia's first choice for pest, termite, and lawn services.