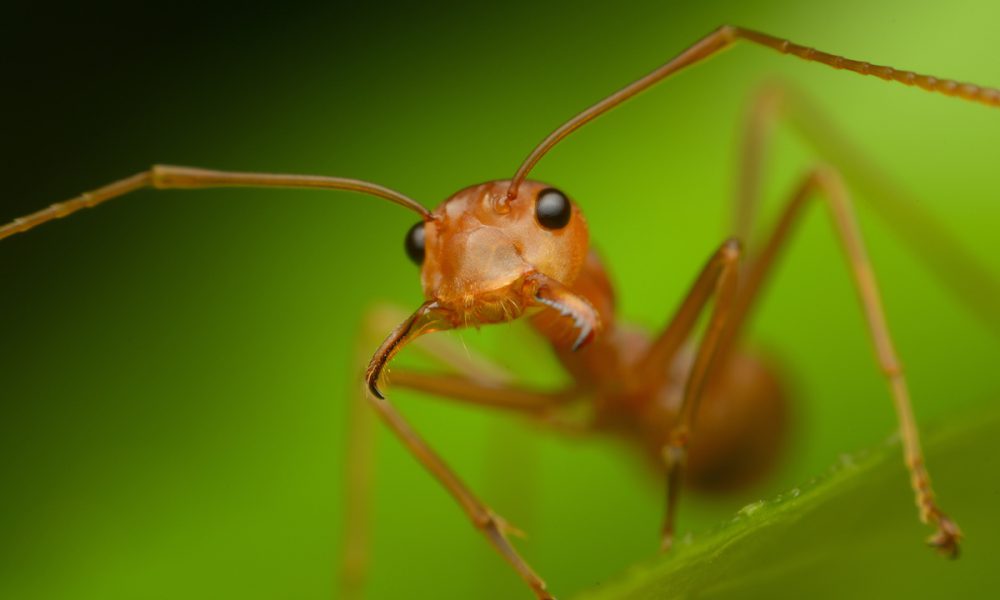 The paraponera clavata is a species of ant, known as the bullet ant, named for its extremely potent painful sting. It inhabits humid lowland rainforests from Nicaragua and the extreme east of Honduras and south to Paraguay.
Why is it called a bullet ant?
"The bullet ant (Paraponera clavata) gets its name from the shot of intense pain it delivers with its venom-filled sting. The recipient experiences its agonizing effects for the next 12 – 24 hours. The pain is so immediate and intense that it shuts down all illusions of life as normal. Imagine sticking a finger in a 240-volt electrical socket, according to BBC.com." It has been reported that the feeling of being stung supposedly simulates the pain of being pierced by a bullet.
Description
"The powerful Bullet Ant ranks as a rather large variety of ant, like many of its related species. Workers average around 0.7-1.3 in (18–30 mm) in length. In appearance, these comparatively small, yet extremely powerful, invertebrates strongly resemble reddish-black, wingless wasps, with its coloring. It remains best known, in terms of physical appearance, at least, for its large, powerful pincers. With these, it easily defends itself and rends its prey. Kingdom: Animalia Phylum: Arthropoda Class: Insecta Order: Hymenoptera Family: Formicidae Genus: Paraponera Species: P. clavate," states Our Breathing Planet.com.
Schmidt Pain Index
Dr. Justin O Schmidt, a retired entomologist from Arizona sampled and logged the stings from around 150 species of hymenoptera (wasps, bees, hornets and ants). He then used this information to create the definitive scale and ranking system for insect sting pain – the Schmidt Pain Index. On this pain index, he ranked the Bullet Ant as the worst insect sting in the world at a 4.0+ rating.
Venom
Thoughtco.com reports that "the primary toxin in bullet ant venom is poneratoxin. Poneratoxin is a small neurotoxic peptide that inactivates voltage-gated sodium ion channels in skeletal muscle to block synapse transmission in the central nervous system. In addition to excruciating pain, the venom produces temporary paralysis and uncontrollable shaking. Other symptoms include nausea, vomiting, fever, and cardiac arrhythmia. Allergic reactions to the venom are rare. While the venom is not lethal to humans, it paralyzes or kills other insects. Poneratoxin is a good candidate for use as a bio-insecticide".
Treatments of Bullet ant Venom
According to Pestwiki.com, "the name 'bullet ant' conveys the meaning of the name of this insect is unbearable pain. The pain is unbearable and is said to be the pain of a bullet by getting shot. The person feels this pain for 24 hours, and its body shakes for a week because of the venom. Their habitat is trees, shrubs and mainly the tree trunks where they are found in large populations searching for food. Their large population is a danger for those who do not know what this thing can cause. Here is the recommended treatment for a bullet ant venom:
1. Extract the Venom
There are some ways by which you can extract the venom from the affected area.
2. Apply Cold Compress
It is recommended to apply cold things on the spot. Even, take a bath in ice cubes that will compress your body and affected part to extract the venom from the body.
3. Take Antihistamine
It is recommended to take a high dose of antihistamine to prevent the flow of venom in the body and allergic reactions in case of multiple bites.
4. Visit a Doctor
It is recommended that in a case of high pain visit your doctor immediately for preventing further pain and infections. Take medications according to the prescription of the doctor".
Bullet Ant Facts

According to Our Breathing Planet.com, here are some facts about the bullet ant:
The Bullet Ant forms a rather remarkable species of fairly large ant, commonly popular as the lesser giant hunting ant or conga ant.
Its name derives from reports concerning its rather powerful and quite potent sting.
Interestingly, among the local inhabitants of its native range, the insect's name is hormiga veinticuatro.
Translated, this means 24-hour ant, which refers to the 24 hours of extreme pain that generally follow a sting.
That's twenty-four very long hours. The species epithet clavata also means club-shaped".
Have some pest or termite needs? We would love to earn your business! Please let our team of professionals help you. Don't spend your valuable time dealing with things that we can handle for you. If you're in any of the surrounding areas, give Proactive Pest Control a call at 770-800-PEST or 770-800-7378.
Contact Us

Choose Proactive Pest Control for professional, comprehensive, guaranteed pest and lawn management. The pros at Proactive will work diligently to gain your trust, confidence, and your total satisfaction. CALL US TODAY at 770-800-PEST to schedule a free, no obligation inspection and evaluation for your home or business. Or, contact us for a FREE consultation. Let us show you why Proactive Pest Control is northeast Georgia's first choice for pest, termite, and lawn services.