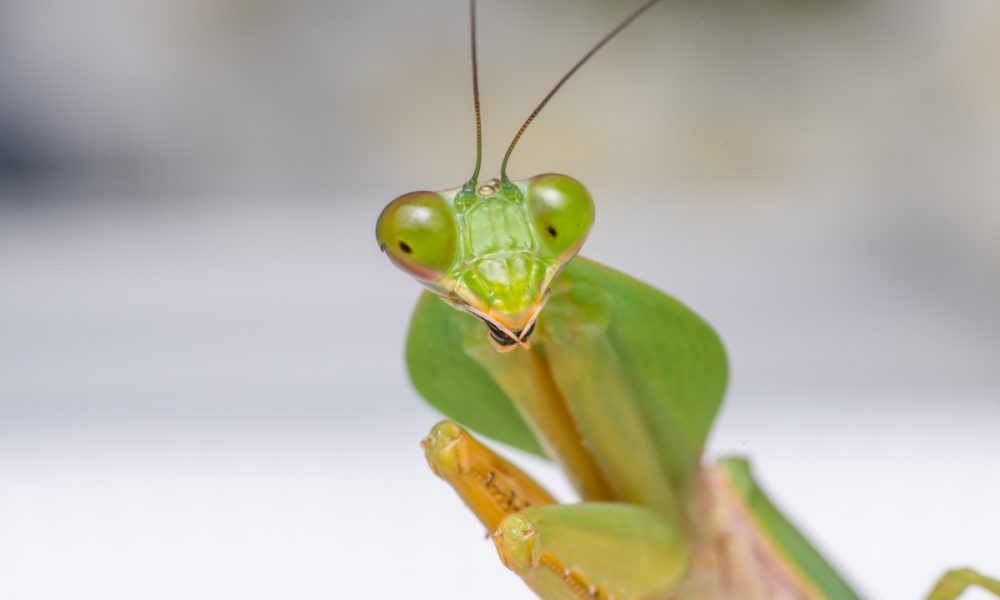 "The praying mantis is named for its prominent front legs, which are bent and held together at an angle that suggests the position of prayer. The larger group of these insects is more properly called the praying mantis. Mantis refers to the genus mantis, to which only some praying mantis belong. By any name, these fascinating insects are formidable predators," according to Buglogical.com.
Praying Mantis
Common Name:
Praying Mantis
Scientific Name:
Mantis religosa
Type:
Invertebrates
Diet:
Carnivores
Average Life Span in the wild:
1 year
Size:
0.5 to 6 inches long
Interesting facts about Praying Mantis
Triangular heads poised on a long "neck," or elongated thorax.
Mantis can turn their heads a full 180 degrees.
They have two bulbous compound eyes, three small simple eyes, and a pair of antennae with only one ear.
Closely related to cockroaches and terminates.
Females sometimes eat their mates during or after mating.
Green or brown and well camouflaged on the plants among which they live, mantis lie in ambush or patiently stalk their quarry.
Use their front legs to snare their prey with reflexes so quick that they are difficult to see with the naked eye. Their legs are further equipped with spikes for snaring prey and pinning it in place. They eat moths, crickets, grasshoppers, flies, and others of their own kind.
Females regularly lay hundreds of eggs in a small case, and nymphs hatch looking much like tiny versions of their parents.
2,400 species are tropical. Only 18 species are from the North American continent.
Spiritually they represent good luck.
Make good pets.
Have some pest or termite needs? We would love to earn your business! Please let our team of professionals help you. Don't spend your valuable time dealing with things that we can handle for you. If you're in any of the surrounding areas, give Proactive Pest Control a call at 770-800-PEST or 770-800-7378.
Contact Us
Choose Proactive Pest Control for professional, comprehensive, guaranteed pest and lawn management. The pros at Proactive will work diligently to gain your trust, confidence, and your total satisfaction. CALL US TODAY at 770-800-PEST to schedule a free, no obligation inspection and evaluation for your home or business. Or, contact us for a FREE consultation. Let us show you why Proactive Pest Control is northeast Georgia's first choice for pest, termite, and lawn services.