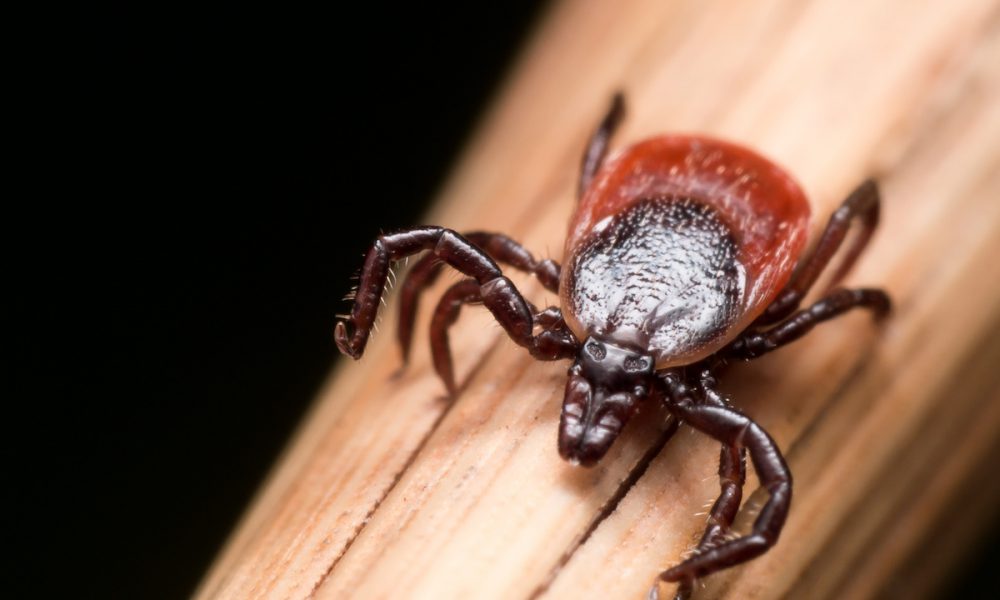 Blacklegged ticks, which carry Lyme disease, can remain active in their adult stage from fall to spring as long as the temperature is above freezing. This tick is typically found on deer and moose. Each life stage (larvae, nymph and adult) of any species of tick has a discrete time period when it is most likely to be looking for a host.
PetMD states that "ticks are capable of surviving winter temperatures when they are able to find a host to feed from or a warm location to hide in during the coldest weather months in Georgia. Generally, adult ticks will still be a threat when temperatures hover around 45 degrees Fahrenheit. For this reason, if you or your pet spends time outdoors in the winter, tick prevention is still a good idea".
How ticks find their hosts

"Ticks find their hosts by detecting animals´ breath and body odors, or by sensing body heat, moisture, and vibrations. Some species can even recognize a shadow. In addition, ticks pick a place to wait by identifying well-used paths. Then they wait for a host, resting on the tips of grasses and shrubs. Ticks can't fly or jump, but many tick species wait in a position known as "questing". While questing, ticks hold onto leaves and grass by their third and fourth pair of legs. They hold the first pair of legs outstretched, waiting to climb on to the host. When a host brushes the spot where a tick is waiting, it quickly climbs aboard. Some ticks will attach quickly and others will wander, looking for places like the ear, or other areas where the skin is thinner," reports CDC.

Lyme Disease

Lyme disease causes a rash, often in a bull's-eye pattern, and flu-like symptoms. Joint pain and weakness in the limbs also can occur. There are 13 common signs and symptoms of Lyme disease which are:
Rashes
Fatigue
Achy, stiff, or swollen joints
Headaches, dizziness, fever
Night sweats and sleep disturbances
Cognitive decline
Sensitivity to light and vision changes
Other neurological problems
Skins outbreaks
10.Heart problems
11.Mood changes
12.Unexplained pain and other sensations
13.Regression and other symptoms
What to do if you have a blacklegged tick bite
"Remove the tick by pulling it directly out with fine-tipped tweezers. Lift upward with slow and even pressure. Don't twist when removing it. Don't crush it or put soap or other substances on it. Don't apply heat to it. Place the tick in a resealable container. See if you can identify what kind of a tick it is. Immediately after removing the tick, wash your skin well with soap and water or with rubbing alcohol. Not all ticks carry Lyme. The Lyme bacteria is transmitted only by blacklegged ticks in their nymph or adult stage. Save the tick to show your doctor. The doctor will want to determine if it's a blacklegged tick and if there's evidence of feeding. Ticks enlarge as they feed. Your risk of getting Lyme from an infected tick increases with the length of time that the tick fed on your blood," describes Healthline.com.
Ticks and Lyme Disease can be very serious for both humans and animals. If you see any signs of ticks in your home or on your property, call an expert to get rid of them?
Contact Us
Choose Proactive Pest Control for professional, comprehensive, guaranteed pest and lawn management. The pros at Proactive will work diligently to gain your trust, confidence, and your total satisfaction. CALL US TODAY at 770-800-PEST to schedule a free, no obligation inspection and evaluation for your home or business. Or, contact us for a FREE consultation. Let us show you why Proactive Pest Control is northeast Georgia's first choice for pest, termite, and lawn services.