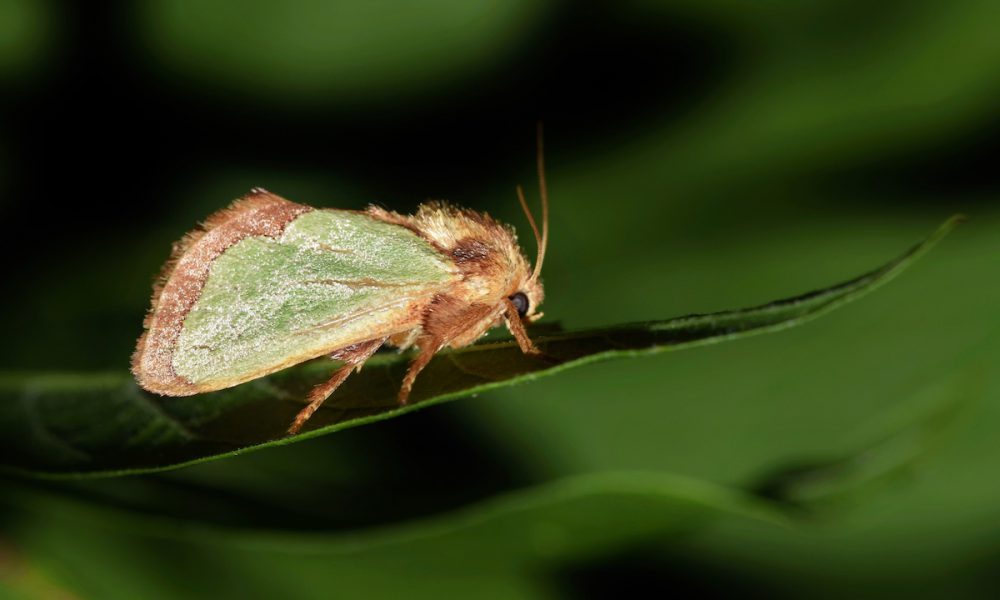 There are over 160,000 species of moths in the United States. Moths are a group of insects that are related to butterflies. They belong to the Lepidoptera order. There are more than 54 moth species documented in Georgia.
In this series, we will discuss the following moths:
Luna Moth
Scarlet-Bodied Wasp Moth
Abbreviated Button Slug Moth
Here is a photograph of the Abbreviated Button Slug Moth taken by Bob Cammarata.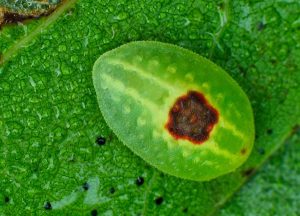 This slug moth looks more like a garden slug. It is has a rounded, elongated body shaped like an egg with two yellow lines that run down the center of the dorsal side back. One of the reasons it is named BUTTON slug moth is it has a large, deep red dot, similar to an elevator button, right in the middle of its back. As it grows, the dot expands and begins to bleed toward the rear and head and more down the side of the body.
The abbreviated button slug moth is small and light brown with a dark u-shaped line curve on both wings. Poking above its wing, the abdomen sticks up. The lower part of their "feet" do not have any fur, but the tops of their legs do have fur.
Button slugs are usually the first slug moth caterpillars to begin showing up each summer.
Classification
Here is the classification breakdown:
Kingdom Animalia (Animals)
Phylum Arthropoda (Arthropods)
Class Insecta (Insects)
Order Lepidoptera (Butterflies and Moths)
Family Limacodidae
Genus Tortricidia
Species Flexuosa
The Limacodidae or Euclidae are a family of moths in the superfamily Zygaenoidea or the Cossoidea. These moths are often called slug moths because their caterpillars bear a distinct resemblance to slugs. They are also called cup moths due to the shape of their cocoons.
The larvae are often covered in protective stinging hairs and are mostly tropical, but occur worldwide, with about 1000 described species and probably many more as yet undescribed species.
Moths and butterflies are considered a part of the Lepidopteran order as they share many similarities.
Size 
Adult length .31 inches to .47 inches
Colors
Brown, green, yellow and red
Descriptors
U line, tail up, hairy, flying, red dot caterpillar, flattened body, tree pest
Range
Limacodidae larvae in temperate forests of eastern North America prefer glabrous leaves because the trichomes of leaves interfere with their movement.
Caterpillar Hosts
The caterpillars eat leaves from apple, black cherry, chestnut, hazelnut, hickory, oak, sycamore, witch hazel, and plum trees.
Sting
Many limacodid larvae are green and relatively smooth, but others have tubercles with hairs and may have bright warning colors. Their sting can be quite potent, causing severe pain.Contact Us
Choose Proactive Pest Control for professional, comprehensive, guaranteed pest, and lawn management. The pros at Proactive will work diligently to gain your trust, confidence, and your total satisfaction. CALL US TODAY at 770-800-PEST to schedule a free, no obligation inspection and evaluation for your home or business. Or, contact us for a FREE consultation. Let us show you why Proactive Pest Control is northeast Georgia's first choice for pest, termite, and lawn services.