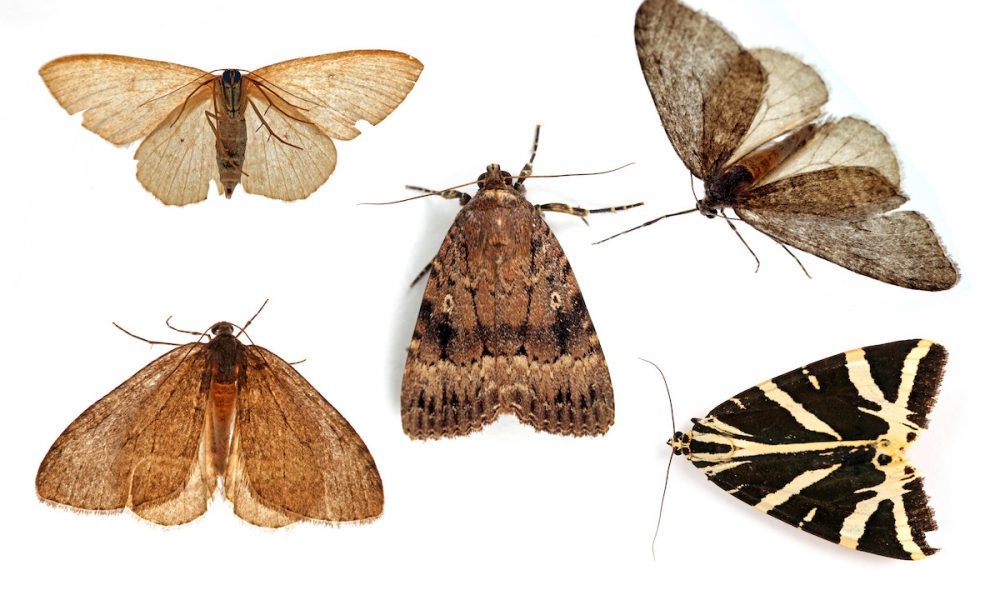 There are over 160,000 species of moths in the United States. Moths are a group of insects related to butterflies. They belong to the Lepidoptera order. There are more than 54 moth species documented in Georgia.
In this series, we will discuss the following moths:
Luna Moth
Scarlet-Bodied Wasp Moth
Abbott's Sphinx Moth
Family
Subfamily
Macroglossinae
Identification
Adults mimic bumblebee because they make a buzzing sound when feeding. Wing margins are scalloped. Upperside forewing is dark brown with light brown bands and markings. Hindwing upperside is yellow with a wide black outer margin.
Short body and cryptic wings distinctive. Hindwings have a yellow "flash pattern". Larvae start with the color green and a horn on the final segment. Middle instar larvae are whitish to blue-green with dark faint cross-stripes and the horn replaced by an orange raised knob on the last segment (A8). The last instars may be either brown with a "wood-grain" pattern or brown with ten pale green saddles along the back. In these late instars, the knob resembles an eye.
Wing Span
2 – 2 3/4 inches
Wingspan 51-70 mm
Larva to 75 mm
Life History
Adults begin feeding at dusk. Caterpillars feed at night, and during the day rest hidden on the bark of their host plants. Fully-grown caterpillars pupate and overwinter in shallow underground cells.
Flight
Two flights from February-August in Louisiana; one flying from May-June in the remainder of the range.
Caterpillar Hosts
Grape (Vitis) and ampelopsis (Ampelopsis).
Adult Food
Adults eat nectar from flowers including honeysuckle (Lonicera), lilac (Syringa vulgaris), and Viburnum. Female moths fly near midnight, and male moths are reported to fly around dusk.
Larvae feed on Grape, Vitis, and Ampelopsis.
Habitat
Woodlands
Range
Northern Florida, Mississippi, and Texas north to Nebraska
Bite
The Morgan's sphinx moth (Xanthopan morgani) has the longest proboscis of any moth, reaching over 12 inches in length. Larval moth have biting mouthparts, but these cannot pierce the skin. Exceptionally large species may be able to deliver a slight pinch.
Classification
Here is the classification breakdown:
Kingdom Animalia (Animals)
Phylum Arthropoda (Arthropods)
Subphylum Hexapoda (Hexapods)
Class Insecta (Insects)
Order Lepidoptera (Butterflies and Moths)
Superfamily Bombycoidea (Silkworm, Sphinx, and Royal Moths)
Family Sphingidae (Sphinx Moths)
Subfamily Macroglossinae
Tribe Macroglossini
Genus Sphecodina
Species abbottii (Abbott's Sphinx – Hodges#7870)
 Synonyms and other taxonomic changes
Sphecodina abbottii (Swainson, 1821)
Explanation of Names
The Abbott's Sphinx Moth is named for John Abbott (1751 – 1840) who was a pioneering naturalist and illustrator.
Range
Eastern and central North America: Maine to Florida, west to Minnesota, Kansas, Texas
Habitat
Edges of woodlands
Season
February-August with two flights in the deep south. May-June in much of range, with one flight.
Contact Us
Choose Proactive Pest Control for professional, comprehensive, guaranteed pest, and lawn management. The pros at Proactive will work diligently to gain your trust, confidence, and your total satisfaction. CALL US TODAY at 770-800-PEST to schedule a free, no obligation inspection and evaluation for your home or business. Or, contact us for a FREE consultation. Let us show you why Proactive Pest Control is northeast Georgia's first choice for pest, termite, and lawn services.