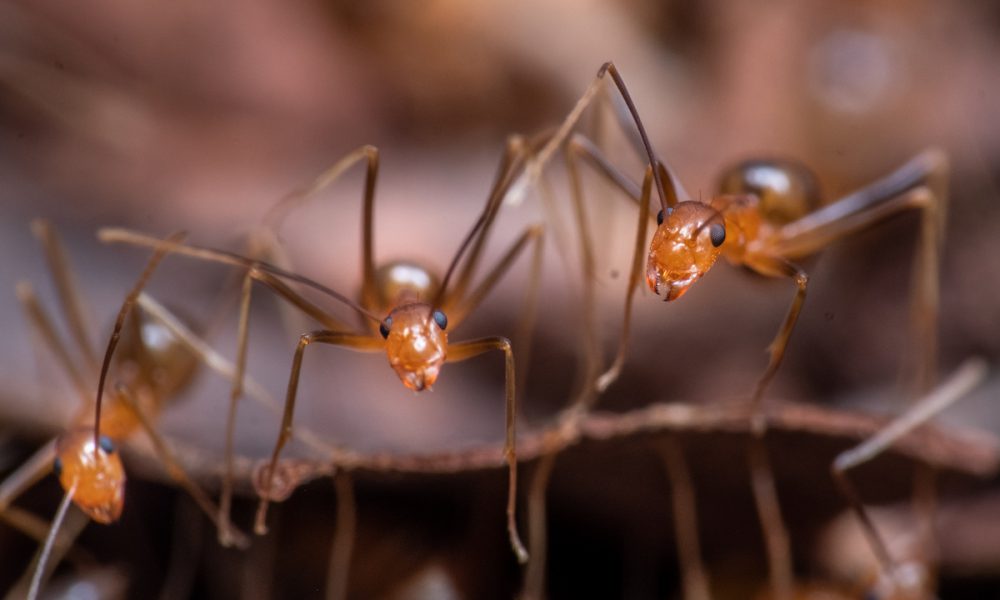 With over 12,000 species of ants, there are a lot of ants out there. We are looking at seven of the most common ants in this continuing series. Here is information on Crazy Ants to help you identify them and keep them from hurting you and your home. Yes, there is an inspect called Crazy Ants.
Most common ant species
Here are the ants that we are highlighting. In this blog, we are addressing the Crazy Ants.
Crazy Ants
Fire Ants
Ghost Ants
Odorous House Ants
Pavement Ants
Crazy Ants
Crazy ants are attracted to electronics and can short out electronic equipment, while damaging expensive equipment such as computers, TVs, and electrical boxes (both outside and inside).
These ants do not have a stinger like fire ants, but they have a fire ant anti-venom gland. The substance is formic acid, and its use is two-fold: the same antidote that they use to nullify venom on themselves is used as a chemical weapon against competitors.
They nest in small cracks and crevices and voids, particularly moist areas. Once they establish a place to live inside a building, they wander searching for food. Outside, they may be found in damp soil, under rocks, stumps, timbers, compost, garbage, and potted plants. These ants can adapt to dry conditions.
Diet: They prefer to eat protein, animal matter, grease, and other insects, but they will readily eat sweets. You may find them foraging inside your kitchen. They are attracted to honey from beehives, ripened fruits, honeydew (the excretions from aphids and other insects), and any sweet part of a plant. They eat other insects, both living and dead. They are predators, foragers, and scavengers.
Bites: Crazy ants bite, but do not sting. Due to their invasive nature, they can displace other ant species and affect honeybees and birds.
There are three types of crazy ants:
Tawny or Raspberry
The tawny crazy ant was first discovered near Houston, Texas in 2002 by Tom Rasberry (hence the alternative common name Rasberry crazy ant), a pest management professional. This Tawny ant became a problem for local homeowners and businesses infiltrating homes and destroying electrical work. To eradicate the ant from electrical wiring at NASA facilities, NASA called on Rasberry and others. The ant is believed to have traveled to the U.S. aboard a commercial ship, probably from South America.
This ant is named for the butterscotch color and their erratic movements. They are 1/8 inch long and reddish brown in color. Found throughout Texas and the Gulf states, tawny crazy ants are the newest insect invaders. They do the damage in electrical outlets and short-circuiting electronics. These crazy ants are increasing in numbers in the southeastern U.S.
Black
These ants are brown and black with a bluish tint. They are found throughout the U.S. and are very common in Georgia, South Carolina Florida and other states along the Gulf Coast.
Caribbean
They are 1/8 inch long and golden brown-reddish brown in color. They are located in Florida and the Gulf States and Texas. Based on observations of heavily infested areas, colonies may contain hundreds of thousands of individuals among interconnected sites.
Ant Prevention Tips
It is important to be preventive to keep ants away from your property. Here is some information to help.
The reason ants enter a home is because they are looking for food or moisture. During cold weather months, they may even be looking for warmth. There are several steps you can take to help prevent ants from your home:
Seal gaps around pipes, cracks, and crevices.
Fix leaks and moisture problems immediately.
Keep areas clean of food and beverage spills.
Seal and store cereals, sugars, dried fruits, etc.
Make sure you clean and store put pet food after pets are done eating.
Search out any moisture-damaged wood and replace it.
Keep gutters free-flowing.
Please let our team of professionals help you. Don't spend your valuable time dealing with things that we can handle for you. If you're in any of the surrounding areas, give Proactive Pest Control a call at 770-800-PEST or 770-800-7378.
Contact Us
Choose Proactive Pest Control for professional, comprehensive, guaranteed pest, and lawn management. The pros at Proactive will work diligently to gain your trust, confidence, and your total satisfaction. CALL US TODAY at 770-800-PEST to schedule a free, no obligation inspection and evaluation for your home or business. Or, contact us for a FREE consultation. Let us show you why Proactive Pest Control is northeast Georgia's first choice for pest, termite, and lawn services.