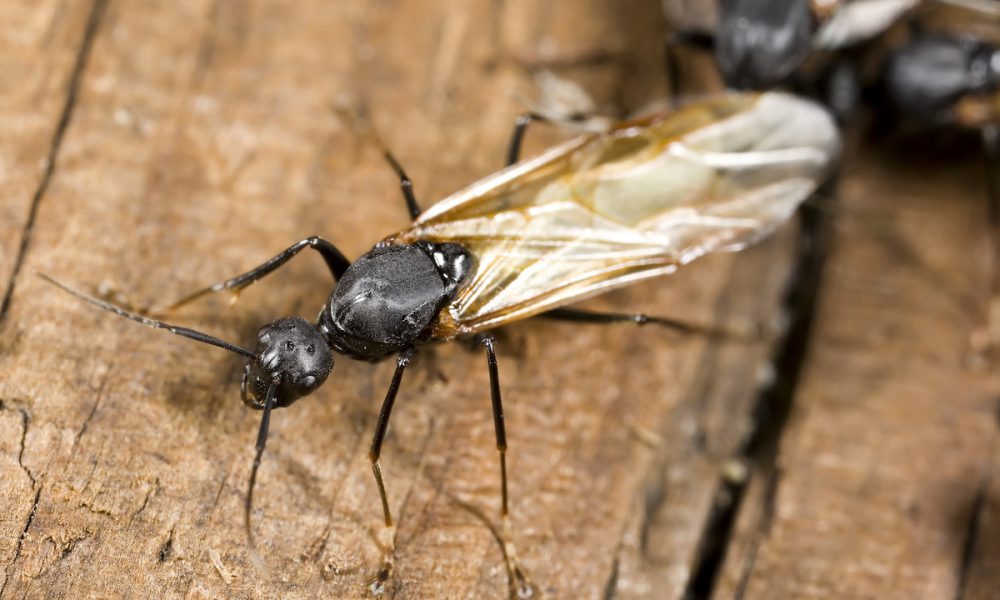 Did you know that there are a lot of ants in the world – over 12,000 species to be exact? This article is a continuation in a series on the Seven Most Common Ants. We will discuss information to help you identify them and keep them from hurting you and your home.
Ants can be many things when they get into your home or when you're having an outdoor social event:
Frustrating
Painful
Destructive
Annoying
Dangerous
Two fascinating facts about ants:
An ant can lift 20 times its body weight. If a second grader was as strong as an ant, he or she would be able to pick up a car!
Queen ants can live for many years and have millions of babies!
Most common ant species
In this series, we will focus on each of these ants:
Carpenter Ants
Crazy Ants
Fire Ants
Ghost Ants
Odorous House Ants
Pavement Ants
We are covering the Carpenter Ant in this article.
Carpenter Ants
You can find carpenter ants all over the entire US.
Wherever you find moisture damaged wood, you'll find carpenter ants. These ants are similar to termites as they can negatively impact the structural integrity of your home by hollowing out wood.
Carpenter ants are among the most significant and most problematic ants. Once they enter your home or business, this destructive begins.
Carpenter ants are indeed able to bite. These ants bite to defend themselves, and their bite is painful and creates a burning feeling due to their formic acid while they bite.
There are two types of nests:
Parent colonies – Found in wood outdoors that is moist or rotted places such as logs, old boards, tree stumps, rotting trees or tree roots. These ants nest in wood that is decaying or moist inside of dwellings, such as in bathrooms or under sinks and dishwashers
Satellite nests – Composed mostly of worker ants. Usually, have less moisture. The Homeowner probably will not see any sign of a nest but may still have an infestation.
Carpenter ants can enter homes and businesses via wet or damaged wood, but they will also enter by way of cracks around windows and doors, creating paths through healthy wood if necessary.
An ant colony can contain 10,000 individuals. About 10 to 15 percent of the ants will be working outside the nest, foraging for food. In search of food, carpenter ants can travel up to 100 yards.
Here are some signs of a carpenter ant infestation:
Look for piles of wood shavings that resemble sawdust and, can usually be found underneath wooden areas like door jams, baseboards, and window sills
Listen for rustling noises coming from inside walls or hollow doors
Winged ants coming out of ceilings, walls, or other hidden crevices
Wings of swarmer carpenter ants found near window sills, baseboards, and vents
Ant Prevention Tips
It is important to be preventive to keep ants away from your property. Here is some information to help.
Trim back trees and bushes from the edge of the house.
Keep firewood away from your home.
Check and adjust the grading around your house if necessary, so there is no standing water.
Fix any water leaks.
Fix or install proper screening in door sweeps and windows on entry doors.
Close the cracks in the foundation with caulk.
Make sure you keep counters clean and vacuum floors to remove crumbs that could attract ants into your home.
Use airtight containers to store food in the pantry.
Please let our team of professionals help you. Don't spend your valuable time dealing with things that we can handle for you. If you're in any of the surrounding areas, give Proactive Pest Control a call at 770-800-PEST or 770-800-7378.
Contact Us
Choose Proactive Pest Control for professional, comprehensive, guaranteed pest and lawn management. The pros at Proactive will work diligently to gain your trust, confidence, and your total satisfaction. CALL US TODAY at 770-800-PEST to schedule a free, no obligation inspection and evaluation for your home or business. Or, contact us for a FREE consultation. Let us show you why Proactive Pest Control is northeast Georgia's first choice for pest, termite, and lawn services.