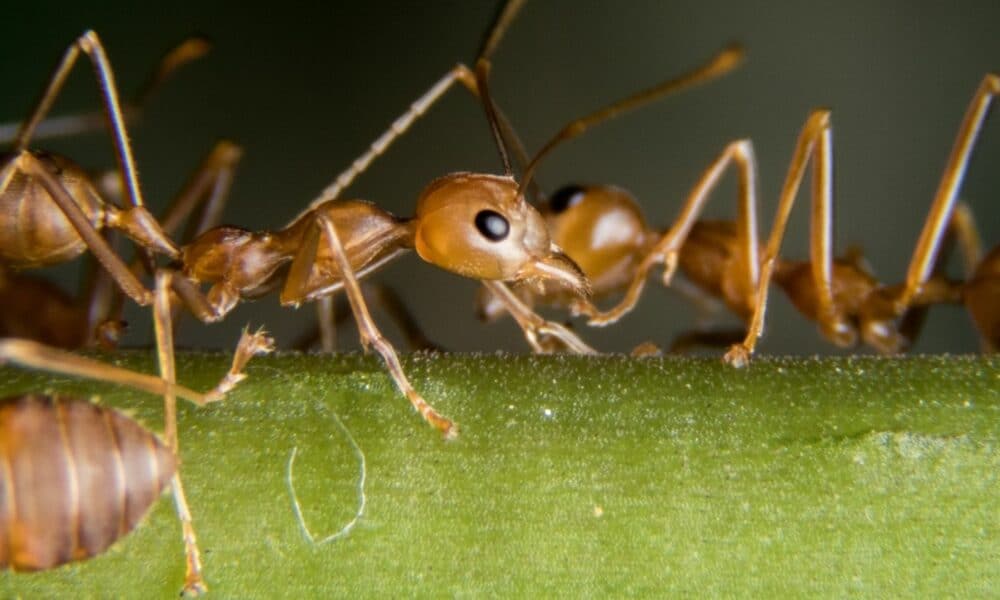 Get Rid of Fire Ants and Keep Them Out of Your Home
If you have been stung by an ant, you know precisely why they are named fire ants. In fact, a fire ant bite produces welts, a painful and itchy area, plus, some people can have an allergic reaction to the bite. And if that is not bad enough, studies suggest that fire ants infest more than 325 million acres across the southern United States and sting more than 20 million people per year. And unfortunately, they are not going away. So, getting rid of fire ants in your yard is a more important question the further we dig into all about the fire ant.
What is a homeowner wanting to frolic in the yard to do? There is hope for your yard and home when it comes to fire ants. First, let's get to know the fire ant. Then we can determine how to get rid of them for good… at least in your yard.
Take charge today by scheduling your fire ant extermination with Proactive Pest Control.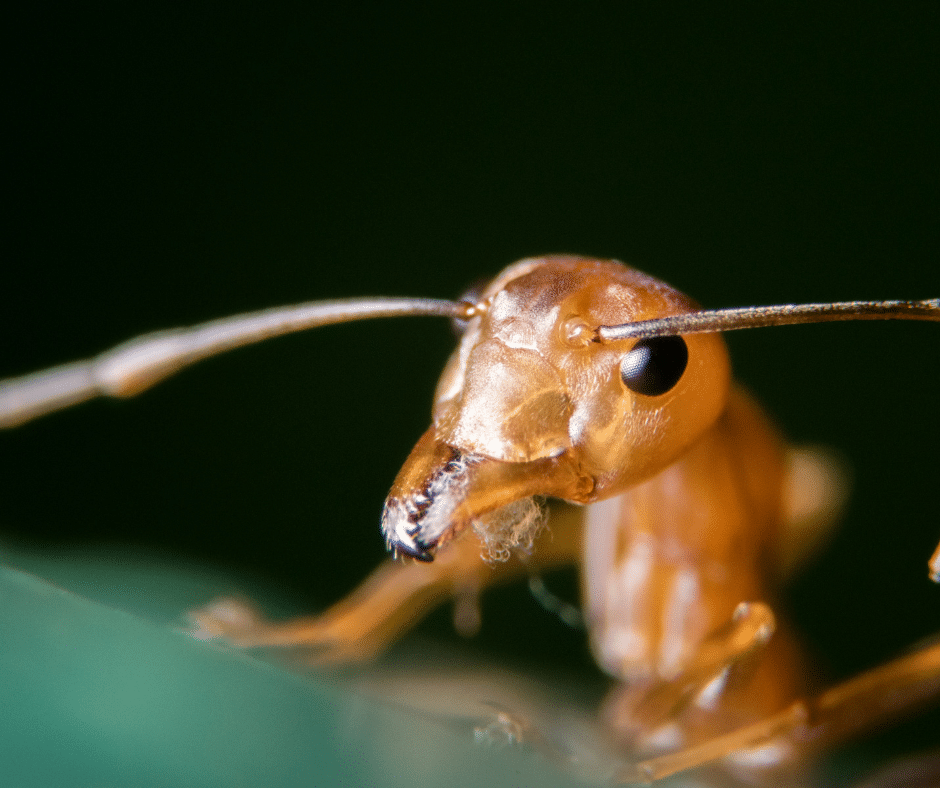 Learning About Fire Ants
These pesky red ants are known for their large mounds and painful sting. And if fire ants are disrupted, they can be aggressive and attack people. You have undoubtedly seen them in the park, in the woods, or even in your yard.
A fire ant has a dark, reddish-brown color on many of its body and head. However, the abdomen appears darker in color. Additionally, they have 10 segmented antennae. They are not uniform in size, and they range in size from 1/8 to ¼ inches. They live in a social structure of a queen, drones, worker ants, and reproductive members.
Fire ants live in colonies and emerge at night when temperatures reach between 70 and 95 degrees. And in the winter months, fire ants don't hibernate, unlike some ants. Actually, they are pretty resilient. You see, they increase quickly, and the nest recovers rapidly after flooding, storms, or other damage to the nest. Amazingly, one queen can lay 1500 eggs each day, and 10 to 15 percent of those stung by fire ants experience severe localized allergic responses.
Identifying a Fire Ant Mound
Fire ants set themselves apart in both their fiery red looks and the way they build their homes. They are tiny red ants but build massive mounds. And these mounds can be as much as three feet high or larger. They will nest in almost any type of soil but would prefer open sunny areas. And when observing a fire ant mound, you will not see an obvious entry into the mound. You see, the entries are located several feet away and connect via tunnels to the mound.
Besides, keep in mind that they do not live just within their mound. Instead, they can take a trip 100 yards from their mound searching for food. Big well-developed nests might need several treatments to totally eliminate.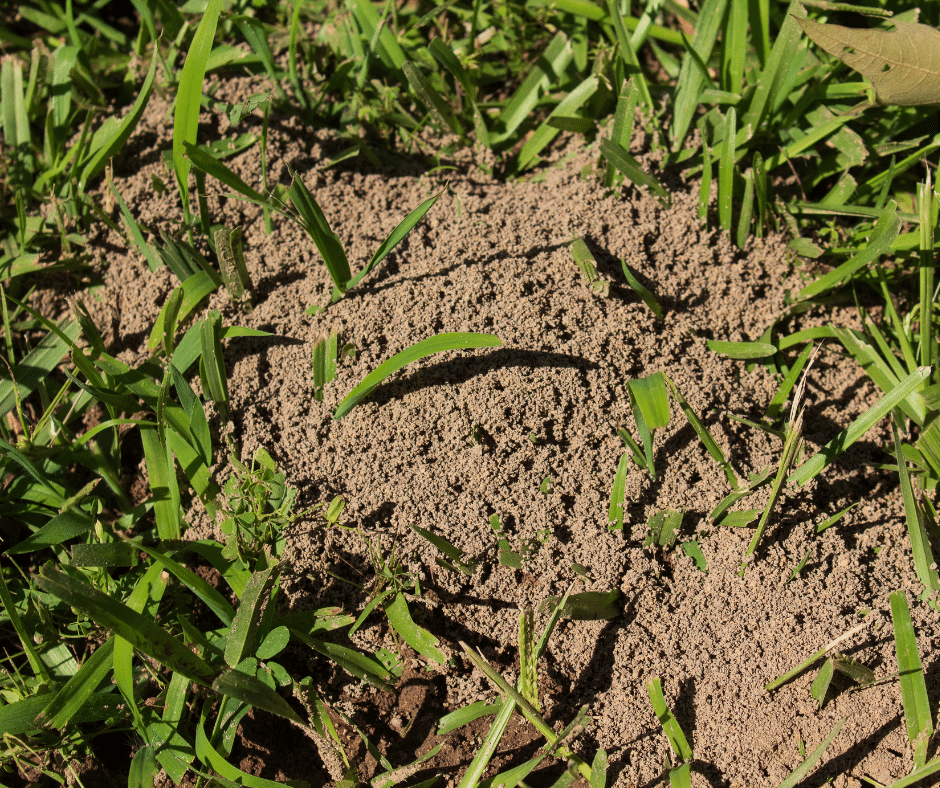 Get Rid of Fire Ants in Your Yard
There are several ways to get rid of fire ants, each requiring a bit of patience. Here are the ways we will cover here:
Natural methods.
Baiting the ants.
Drowning out the nest.
Natural Methods:
Natural methods may be what you prefer if you have little ones and pests. And we don't blame you. Vinegar is a great spray when mixed with water. And you can pour boiling water on a mound outside to kill them if they are in the mound. Many people will use Diatomaceous Earth for a safe substance used in fire ant extermination.
Baiting the Ants:
When you first notice a mound, bait is most effective within the first couple of days of application. Likewise, it is essential to apply the correct amount to the area. With the majority of baits, 1 to 1.5 lbs. per acre works well. When treating specific mounds, do not place the bait on the mound. Consistently spread out the bait 3 to 4 feet around the mound for the best results. Then a broadcast application of bait must be spread out around the yard in the fall to kill any remaining ants. Fire ants believe the bait is food, making the time of bait application essential to the success of the treatment. Place bait out just before evening when they go out foraging for food.
Drowning Out the Fire Ants:
If you need to quickly eliminate a mound, this may be the fast solution. You can treat them around the mound to force the ants into the nest. Then push a broom handle down the center of the pile and pour drenching insecticide down the hole. Just be careful, as they may come out furious.
For a no-hassle approach to fire ant mound elimination, contact the friendly exterminators at Proactive Pest Control.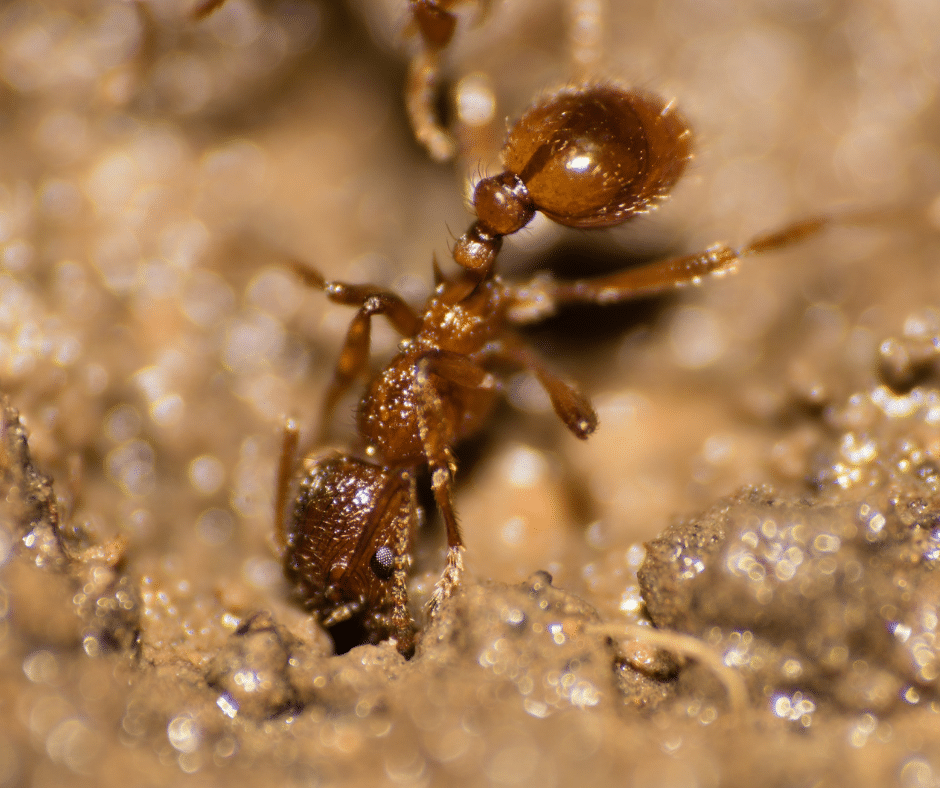 Preventing Fire Ants
Believe it or not, there are many ways you can prevent fire ants from building in your yard and entering your home. And really, they are pretty simple. Here is what we suggest to get rid of the potential for fire ants.
Clean up the outside. Bring cleaned-off toys and trash inside daily.
Be sure there is no food left on the ground after a big family barbecue.
Eliminate standing water in the yard.
And keep the yard manicured and brush trimmed.
Fire ants are good at finding hiding places to build their mounds. It's not unusual to see a mound pop up overnight underneath a bike or other toy left in the yard. And that is dangerous for the kiddos. Because fire ants can pose a severe health threat, specifically to kids or those who are allergic, it is essential to remove these pests right away and avoid their bites whenever possible.
Following these simple measures to prevent fire ants will help in the efforts to keep fire ants away. And as always, if you get fire ants creeping into your home, call Proactive Pest Control right away. Keep your family safe, the Proactive way.
Treating Bites from Fire Ants
The truth is, while their bites are agonizing to everyone, just a small portion of individuals are allergic. The high level of toxins in the venom is what causes the burn. And, just like a bee sting, a fire ant sting can be severe, even lethal. You will want to deal with the stings as you would other pest stings or bites using non-prescription remedies. And keep the are clean and intact to avoid infections.
Here are some quick tips for dealing with the bite.
Ice the area on and off for about 15 total minutes, as you can stand it.
Raise the area above your heart to avoid swelling and throbbing.
Avoid scratching.
Take antihistamines or anti-itch creams.
Should an allergic reaction begin to occur, call emergency services.
And one more thing. Before you buy a new home in an area known to have fire ants, perform an evaluation by a reliable home insect control service to guarantee no nests on the property.
Proactive Pest Control is Here for You and Your Fire Ant Problem
There should be no doubt, it's best to call an outside bug control service when a nest is discovered in an area where they might mix with individuals or in a pasture with animals. Professional pest control teams can apply a treatment for season-long control of fire ants.
Call your local insect control company, like Proactive Pest, to identify and eradicate the ants. What's more, it is wise to call an insect control service to bait the area around your home to avoid colonization before it has a chance to even begin.
Keep your home and your health in excellent condition this year without fire ants. Contact Proactive Pest Control today to get proactive in your fight against fire ants.