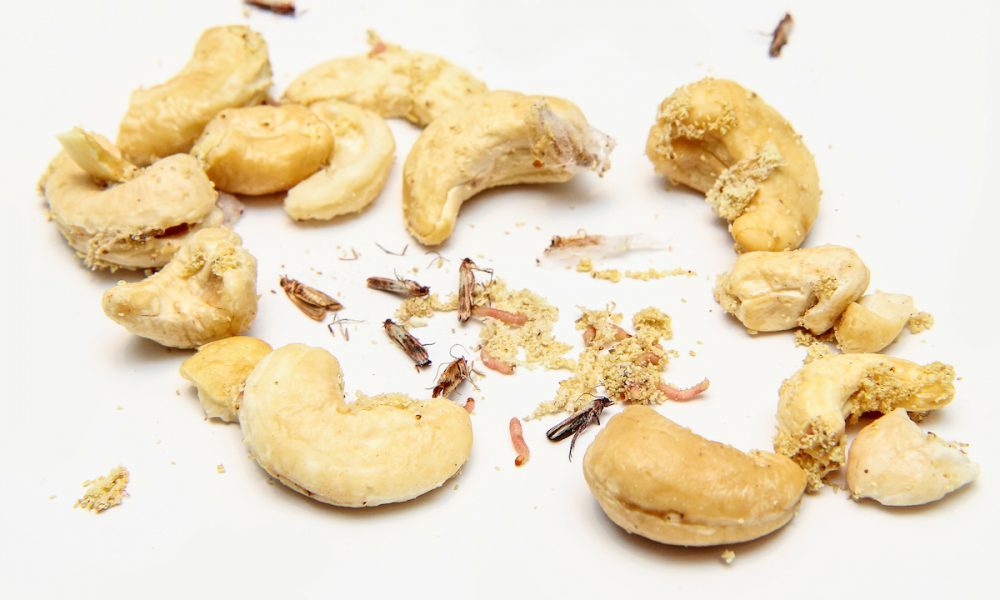 People love baking during the holiday season. It is part of the entire festive experience. Imagine opening up your pantry and pulling out your flour, grains, cake mix, or nuts and finding insects. If this is the case for you, read about how to remove, control, or prevent pantry pests.
Types of Pantry Pests
There are several different types of pests that can get into your pantry and turn into a stored product pest infestation. They include ants, beetles, confused flour beetles, Indianmeal moths, pillbugs, silverfish, weevils, and more. Pantry pests prefer to infest different items but typically target dry goods, and they can be found in all stages of life (egg, larva, pupa, and adult).
Stored Products
Stored products are considered dried and processed food products that are stored in your home. These products can include flour, cereal, dry pasta, dry pet food, powdered milk, cornstarch, crackers, spices, bread, birdseed, dried nuts, fruit, and more.
Nine Ways to Control or Prevent Pantry Pests
Here are nine ways to control or prevent pantry pest infestations:
Throw out all infested food items outdoors in a secured trash can.
Pull out all items from your pantry and inspect everything for larvae or adult insects.
Thoroughly wipe down and clean out your pantry shelves throughout the kitchen.
Re-stock everything, ensuring that all items are properly sealed and secured. Properly store pantry items. Store dry goods and baking ingredients in airtight containers to keep pests out.
Hire an experienced pest control company. Call and schedule a consultation.
Use bay leaves.Place a bay leaf inside canisters of dry goods like flour, rice, and other grains to repel pantry pests.
Inspect your groceries.At the grocery store, be wary of buying items that appear damaged or used.
Check for expiration dates.Regularly look through your pantry and toss any expired items.
Keep a clean kitchen. Promptly clean up spills or messes to avoid attracting pests. Clean out your pantry regularly.
Services Offered
At Proactive Pest Control, we offer pest control, termite control, mosquito reduction, fire ant treatment control, flea and tick control, and lawn services. All of our plans are designed around your unique needs, focusing on the safety of your family, pets, home, business, and the environment. We offer a free consultation to discuss your specific needs.
Contact Us
Choose Proactive Pest Control for professional, comprehensive, guaranteed pest, and lawn management. The pros at Proactive will work diligently to gain your trust, confidence, and your total satisfaction. Proactive Pest Control service areas are located in northeast Georgia and include Athens, Braselton, Buford, Dacula, Jefferson, Lawrenceville, and Winder. CALL US TODAY at 770-800-PEST to schedule a free, no obligation inspection and evaluation for your home or business. Or, contact us for a FREE consultation. Let us show you why Proactive Pest Control is northeast Georgia's first choice for pest, termite, and lawn services.