Termite Control
Georgia is considered a termite "hot zone" with higher infestation levels than most other areas in the U.S. Unfortunately, most homeowners do not consider termite protection on their homes prior to experiencing an infestation. A termite protection policy is just as important as your homeowner's policy. In fact, most homeowner's policies DO NOT include coverage for damage caused by termite activity.
At Proactive Pest Control, we know what a huge and important investment your home or business is. We stay on the cutting-edge of our industry through constant research and testing of products and techniques ensuring our customers get the best results. That's why we recommend protecting your home or business with a liquid / bait combination treatment. This type of treatment gives your home or business the maximum amount of protection available. Most of the homes or businesses that we treat qualify for our retreat and damage repair warranties, which are also 100% transferable.
We understand that termite and pest problems must be approached on an individual basis, which is why a trained Proactive professional will first thoroughly inspect your home or business. Conditions such as water damage, overgrown shrubs, trees, and exposed wood may contribute to termite infestation. During our inspection, likely attractants and pathways are identified so we can develop a strategy with you to avoid future problems.
Regular inspections are critical in the battle against termites and other pests. This will ensure that your home or business will never face another costly and potentially dangerous termite problem in the future. If you suspect that you have termites, we urge you to contact us immediately.
For clues to help distinguish termites from ants, examine the insects' wings, waist, and antennae. While both insects have two pairs of wings, termite wings are relatively equal in size. Ant wings tend to be longer in front and shorter in back. Ants have a narrow, pinched waist, with three separate body parts. Termites' waists are thicker and less distinct. In addition, ant's antennae are elbowed, while termites' are straight.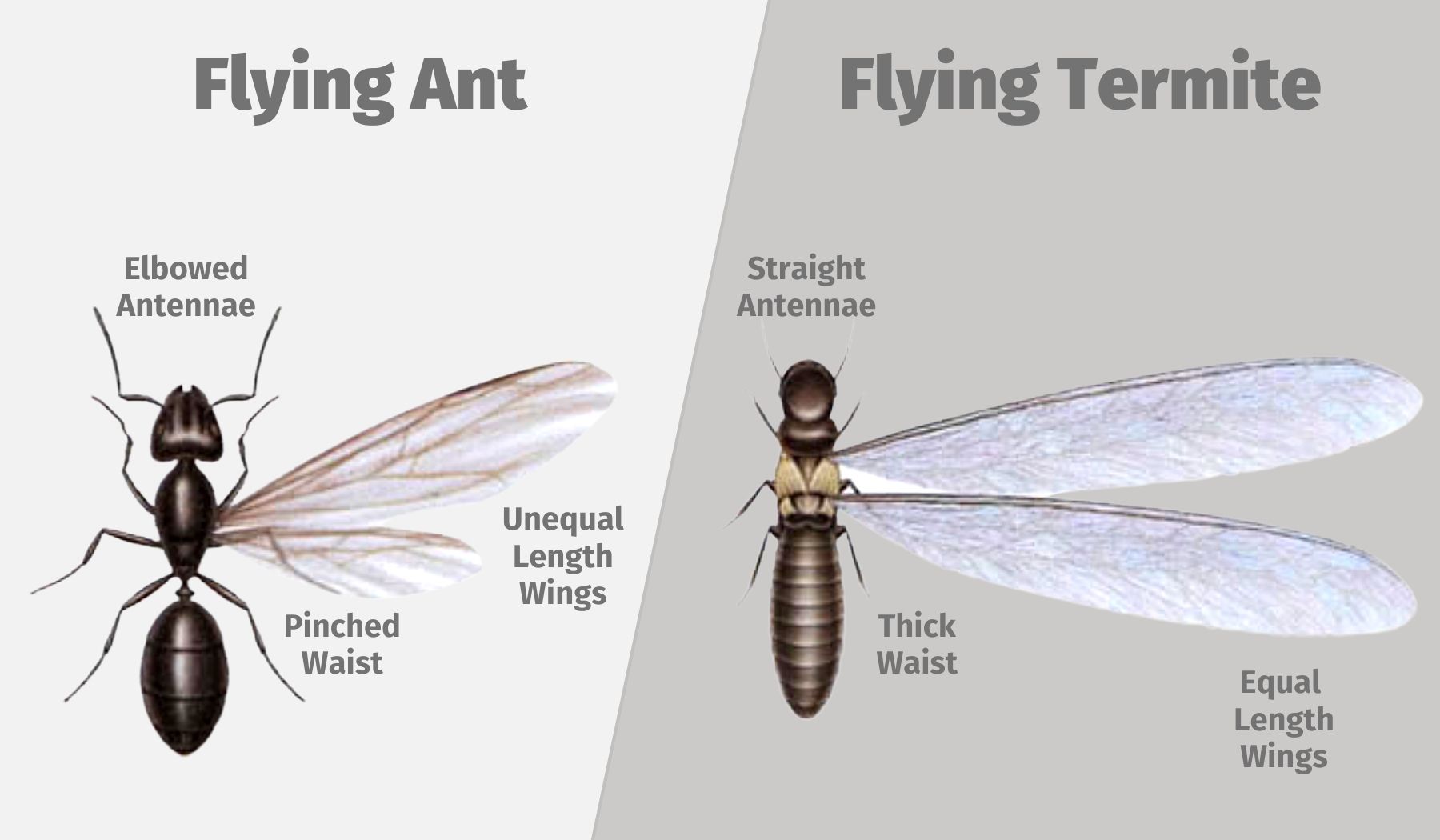 We also offer termite clearance letters (Official Georgia Wood Infestation Inspection Report), new construction treatments (pre-treats), fungus treatments, and more. Please contact us for a complete list of our services.

Evidence of termites might include the following:
Small holes in wood
Crumbling drywall or indentations in drywall; the termites have eaten the paper off the drywall
Sagging doors and floors
Mud tubes in any location that are in contact with the ground
Shed wings
Ways to reduce the conditions that harbor and attract termites:
Remove leaf clutter near structure and in gutters
Remove earth-wood contact
Re-direct sprinklers away from the structure
Keep mulch away from structure
Do not stack wood next to structure
Remove infested stumps and trees
Reduce moisture content in crawlspaces
Repair all leaks in structure inside and out
Make sure water is graded away from structure (including air conditioners)
Install moisture barriers over 80 to 90% of crawl space
Make sure all stucco and form boards are at least 4 inches from ground
Seek professional assistance through a company with a superior time-tested reputation providing excellent initial service using the best materials and ongoing renewal service by highly trained technicians
Did you know?
Termites do more damage to buildings in the U.S. than fires, storms, and floods combined. Over $2 billion a year!
Termites eat non-stop 24 hours a day, 7 days a week, 365 days a year.
Termites have lived on earth for approximately 250 million years.
A queen can lay eggs at a rate of about 30,000 eggs per day for some species.
The total weight of all termites in the world outweighs all the humans in the world.
Termites eat wood, wallpaper, plastics, and fabric made from plants.
Subterranean termites nest in soil. Most people don't even know that they have termites nearby.
Swarmer termites are often mistaken for ants.