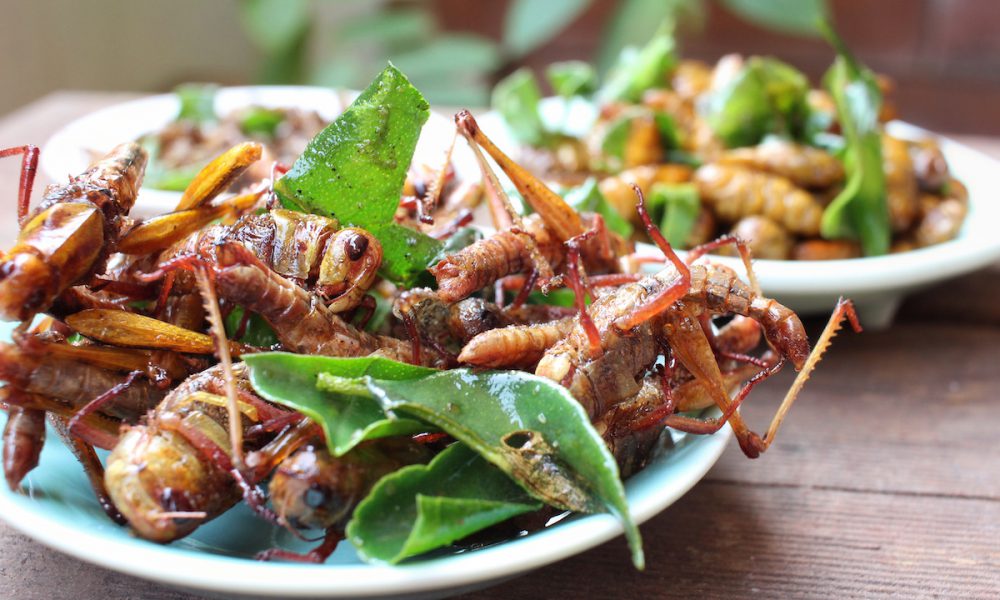 According to the Food and Agriculture Organization of the United Nations, there are more than 1,900 known edible insect species consumed around the world. People around the world actually enjoy eating insects, and some report that certain types of bugs are full of healthy nutrients, protein, and are tasty. U.S. News & World Report also reports that numerous countries eat bugs.
Human Entomophagy
Entomophagy is the practice of eating insects. Many wildlife, such as birds, spiders, and, lizards are entomophagous, as are many insects. Humans around the world have been eating insects as a regular part of their meals for millennia. Humans eating insects is called human entomophagy.
From beetle larvae to ants, tribes in Africa and Australia have eaten insects as part of their subsistence diets. Crispy-fried locusts and beetles are popular and enjoyed in Thailand. It is estimated that Worldwide insect-eating is practiced regularly by over 2 billion people. It is documented that more than 1,900 insect species are edible, most of them in tropical countries such as Asia, Africa, and Latin America.
Most Commonly Eaten Insects
Ants, bees, beetles, caterpillars, cicadas, crickets, dragonflies, flies, grasshoppers, locusts, leaf and planthoppers, scale insects and true bugs, termites, wasps, and are the most commonly eaten.
Grasshoppers are one of the more common and favorite insect eaten around the world in places like Mexico, where they are considered a delicacy and more expensive than other meats; they are eaten with gusto.
Ice Cream Made from Insects
Food scientist, Leah Bessa, and her partners, own a South Africa-based company called Gourmet Grubb which produces ice cream made from an insect-based dairy alternative they've named EntoMilk. It's made from Hermetia illucens, the black soldier fly.
The Insect Experience
Gourmet Grubb has been operating a pop-up food concept in Cape Town called The Insect Experience, where dishes featuring insects are plated with the same care and precision as any gourmet delicacy. The Chef at The Insect Experience Mario Barnard is behind dishes such as mopane polenta fries. At this pop-up, polenta fries are made with flour created with the mopane worms, then sprinkled with mopane chili salt. They try to make it as visually pleasuring to introduce it.
Insects are high in a quality protein that has the right amino acid profile for human consumption. Insects are also high in zinc and iron, high in fiber, and, they have a healthy fat profile. Edible insects are considered a high source of sustainable food.
Most of the insects used in the dishes at The Insect Experience come from South African farms. The mopane worms which are a southern African delicacy are sourced from neighboring Zimbabwe.
Contact Us
Choose Proactive Pest Control for professional, comprehensive, guaranteed pest, and lawn management. The pros at Proactive will work diligently to gain your trust, confidence, and your total satisfaction. CALL US TODAY at 770-800-PEST to schedule a free, no-obligation inspection and evaluation for your home or business. Or, contact us for a FREE consultation. Let us show you why Proactive Pest Control is northeast Georgia's first choice for pest, termite, and lawn services.