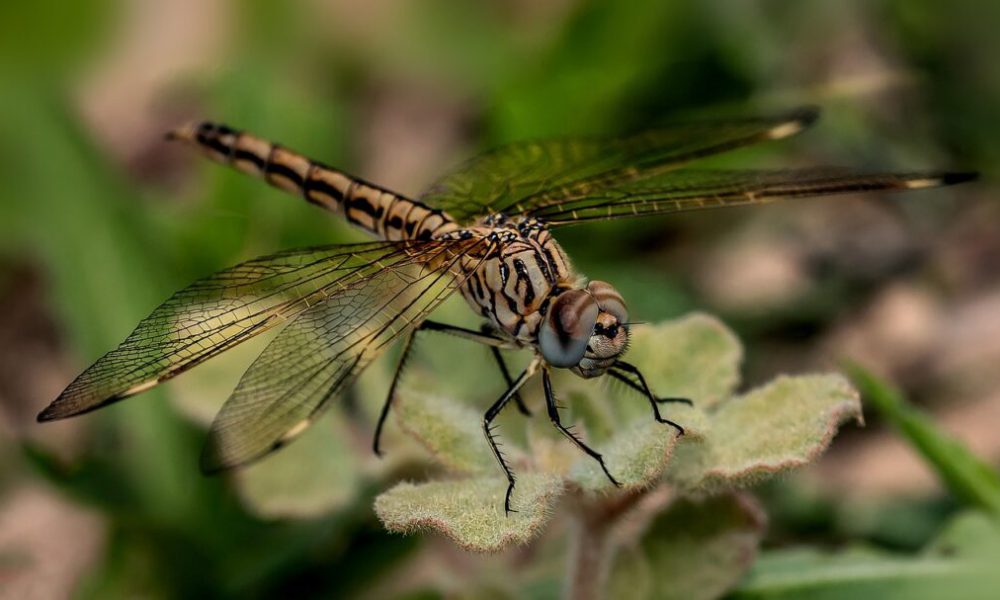 Learning What is So Special About Dragonflies in Georgia
When learning about any of the varieties of Georgia's insects, you must first define the insect in question. After all, there are so many various species of insects, one could get a bit confused. This article will describe the species of dragonflies living in Georgia and determine just what is so special about dragonflies.
Proactive Pest Control is your local authority on all things insect and pest. So, if you ever have any questions on what insects are lurking around your home, call the experts to determine the kind and the threat level. If there is no threat, it is fun sometimes to just sit and watch them live out their little bug lives. Then, you can call out an exterminator so the issue does not become an infestation. No one wants that.
Attributes of Dragonflies
The typical dragonfly has an unmistakable look with its long body, large eyes, and transparent wings. Fossils of dragonflies have been dated to millions of years ago. They are sturdy little insects, for sure. And they are beautiful as well. With their iridescent wings characterized by a larger set of hind wings, they can appear conspicuous in flight. However, they can see it all with multifaceted compound eyes and three simple eyes.
It should be said that dragonflies are predators. These fast fliers can and will eat tadpoles and small fish, as well as flying prey caught in midair. Dragonflies are carnivorous, feeding on various insects ranging from mosquitoes to butterflies, moths, damselflies, and smaller dragonflies. Also, they can be territorial.
Culturally speaking, dragonflies are in all sorts of lore and legend, paintings, and poetry. Wikipedia quotes the author H.E. Bates in his book Down the River, referring to the beauty of their flight.
"I saw, once, an endless procession, just over an area of water-lilies, of small sapphire dragonflies, a continuous play of blue gauze over the snowy flowers above the sun-glassy water. It was all confined, in true dragonfly fashion, to one small space. It was a continuous turning and returning, an endless darting, poising, striking, and hovering, so swift that it was often lost in sunlight."
Interesting Facts About Dragonflies
The Smithsonian Magazine lists 14 facts about dragonflies you may find as fascinating as we do here at Proactive Pest Control. We have provided a brief description of a few of those facts here.
Dragonflies were among the first winged insects created.
There are over 5,000 known species of dragonflies.
Did you know dragonflies have serrated teeth?
They are expert fliers, navigating the air straight up and down, hovering, and even mating in midair.
Their flight inspires engineers to imagine a robot with the flight capabilities of the dragonfly.
Dragonflies can eat 30 to hundreds of mosquitos per day. (That is reason enough to think they are special).
They will travel in swarms, which is being studied today.
And there are so many more reasons to love the dragonflies of Georgia.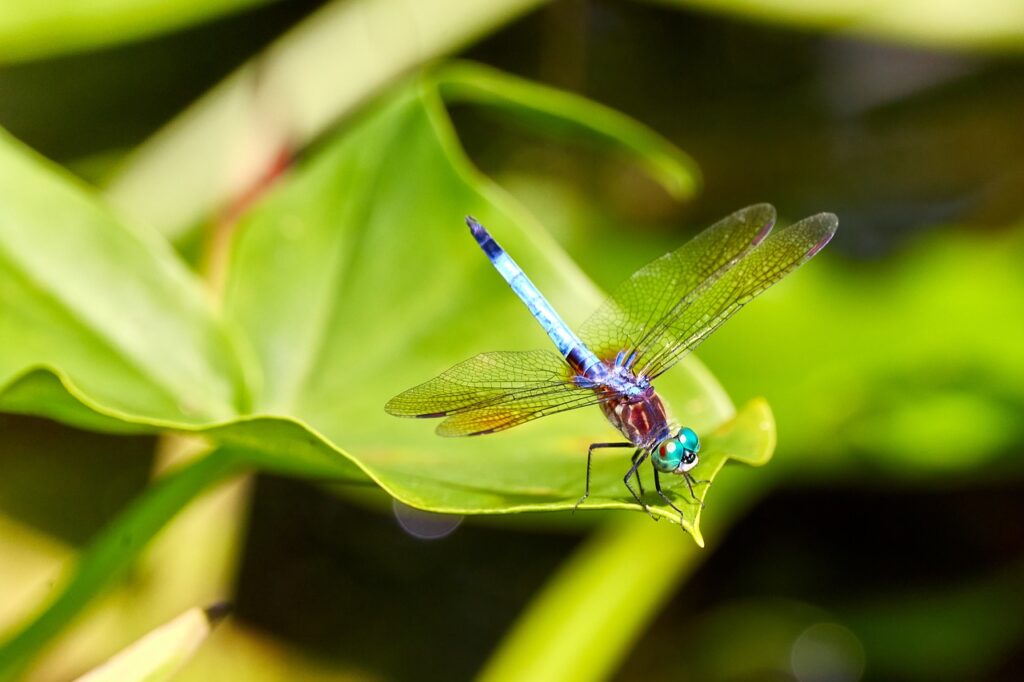 The Dragonflies of Georgia
There are indeed several different dragonflies in Georgia. They range in size and color and are equally as fascinating. Located almost everywhere, they typically live near shallow freshwater, ponds, streams, lakes, and wetlands. Below, we have gathered a list of some of the Georgia dragonflies.
Autumn Meadowhawk: Orange, red or yellow, these dragonflies have a red bar on their wings.
Banded Pennant: Near water, you can find this blue dragonfly with its black bands, and they are harmless.
Black Saddlebags Skimmer: This impressive dragonfly has a short body with long wings. It is usually black with a large "saddlebag" shaped splotch on the wings near the body.
Blue Dasher: The Blue Dasher may be one of the most sighted dragonflies. They are a chalky blue and are excellent pest control agents.
Common Sanddragon: Sanddragons come in black, brown, yellow, and white with stripes on the body. You may spot the female dipping her abdomen in water to lay an egg.
Common Green Darners: One of the larger dragonflies, these beauties are green and fast. Perhaps the most identifiable feature is the eyespot on the male's head, making it look like a cyclops.
Halloween Pennant: This dragonfly floats like a butterfly and is Halloween colors. The coloration is usually orange, black, or red with bands and stripes.
Wandering Glider: Another common dragonfly, these yellowish insects are found flying just above water sources and mate in flight.
You see, they are each so different, yet very similar, rendering them utterly fascinating. To learn more about these and other dragonflies found in Georgia, go to InsectIdentification.org.
Are Dragonflies Dangerous to Humans?
The short answer to this question is yes. When they feel threatened, dragonflies will bite. And, they have teeth, so it can hurt a bit. However, the bite is not dangerous and most likely won't even break the skin. Additionally, they do not have a stinger and will not inject poison, like a spider or a bee.
A bit will often occur when a human is swatting at the dragonfly to get it out of the home. But those wishing to view them in all their glory need not worry. As long as they are left alone, they are too busy to bother with humans.
If you should have a dragonfly trapped in the house, opening large windows and doors will help it find its way out. And it bears saying that dragonflies have short lifespans. So, even if one will not get out, they only live a week or maybe two. Without a water source and other flying insects to prey on, they won't even make it that long.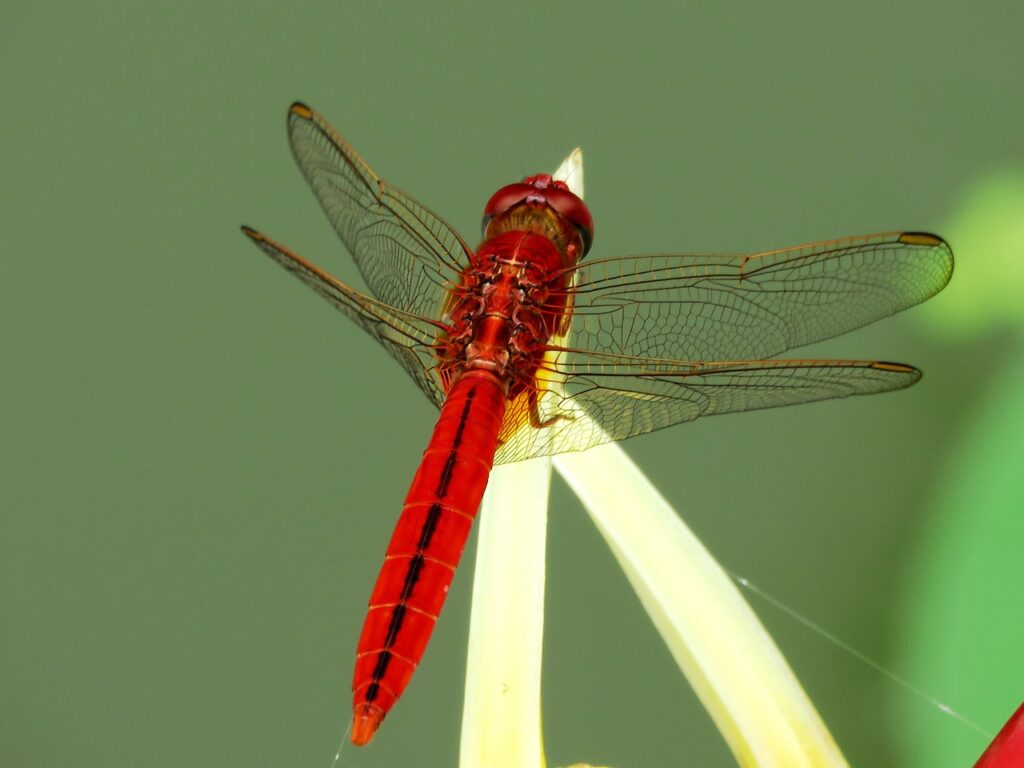 Are Dragonflies Good Luck?
There is something so breathtaking about seeing a beautiful dragonfly. And in some cultures, dragonflies represent good luck or prosperity. Representing both air and water, they are often characterized as symbols of wisdom, insight, and transformation.
Fishermen think of dragonflies as good luck, signifying fish are near.
Seeing a swarm of dragonflies means rain is coming.
They are known as spiritual communicators in certain groups.
When a dragonfly lands on you, you will hear good news about someone you care about.
Adversely, if you see a dead one, you may listen to bad news.
If you can manage to catch a dragonfly, you will be married within the year.
So, if you want to, make a wish when you see a dragonfly. Who knows, it may just come true.
So, What is So Special About Dragonflies?
I think you know by now what is so special about dragonflies. Their eyes, look, patterns, flight, and more make this insect unique. Besides all that, they are not particularly harmful to people. A little bite can be avoided if you know what no to do.
More practically, while butterflies and bees pollinate our plants, dragonflies help us at Proactive do our job. They rid us of pests like mosquitoes and gnats. Since mosquitoes not only ruin a backyard gathering but also carry diseases like malaria, perhaps we should feel lucky when dragonflies enter our yards.
If you need pest solutions in Georgia, Proactive Pest Control is here to help. We know just which insects are harmful and how to be rid of them. Contact our friendly staff at Proactive Pest Control to help you with all your pest control solutions.